Thinking whether you should choose Kajabi for your online or membership site?
Okay, let's determine if this is the right platform for you or not.
Kajabi is an easy-to-use, online course platform that's packed with powerful tools and features.
The platform is an ideal solution to build, promote and market your online courses and membership business.
There are a ton of Kajabi review articles on the internet.
Unfortunately, most of them only scratch the surface without going into enough detail.
In this review, I'm going to talk extensively about Kajabi so that you can decide if it's worth your money or not.
We'll go over the features of Kajabi and weigh the benefits and drawbacks to help you determine if it's right for you.
So, please stick around, and let's take a look under the hood of Kajabi together.
What is Kajabi?
Kajabi is a powerful platform for building your online course business.
It lets you create anything from simple to complex membership sites.
The platform offers advanced features like live video streaming, collaborative content creation, and more.
Kajabi makes it easy to create, manage, and promote your online courses or membership site.
And it's been used by thousands of creators, including some big names like Amy Porterfield.
Kajabi is a platform that brings the best practices of the world's most successful online courses into your business.
It even creates unique websites, marketing automation funnels, and email marketing campaigns for you.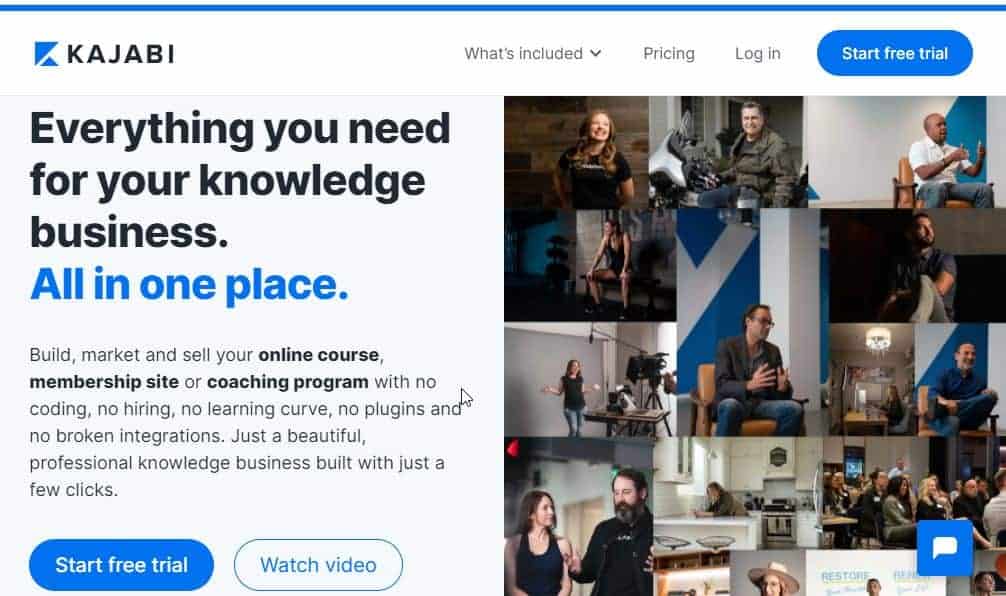 If you use a "traditional" online course website, on the other hand, you'll need some resources.
This can include WordPress to run your blog, ClickFunnels to generate funnels and landing pages, and ConvertKit to handle your email marketing, among other things.
Kajabi will help you build and run your entire online course business with all these resources in one place.
This is achieved by using a single platform so that you don't have to rely on multiple plugins or services to get your business up and running.
After all, you've got better things to do with your time than waste it on something that should be easy.
Also, the platform is run by a team of tech wizards who do all the hard work to keep the site secure and up-to-date.
You won't have to fiddle with any IT or technical issues at any time.
This enables you to focus on building courses to sell.
What makes Kajabi Shine?
Earnings Potential – You set the price for your courses and retain 100% of your earnings.
As an instructor, you have total control over your pricing, and you can make as much or as little as you want.
Course creation & engagement
The sole purpose of an online learning platform is to help create an interesting and engaging learning experience.
We'll look at how Kajabi works in terms of content distribution and member participation in this section.
However, let's start first with creating and setting up your online course for success, on Kajabi.
Structuring and uploading courses on Kajabi
Kajabi is a platform that makes creating awesome digital products (videos, e-books, membership sites, etc.) easier.
They have something called Product Blueprints which are pre-made structures you can replicate for creating awesome digital products.
The easy-to-use blueprints allow you to structure your course effectively and get students enrolled quickly.
Ready to get started?
You only need to pick a Product Blueprint of your choice.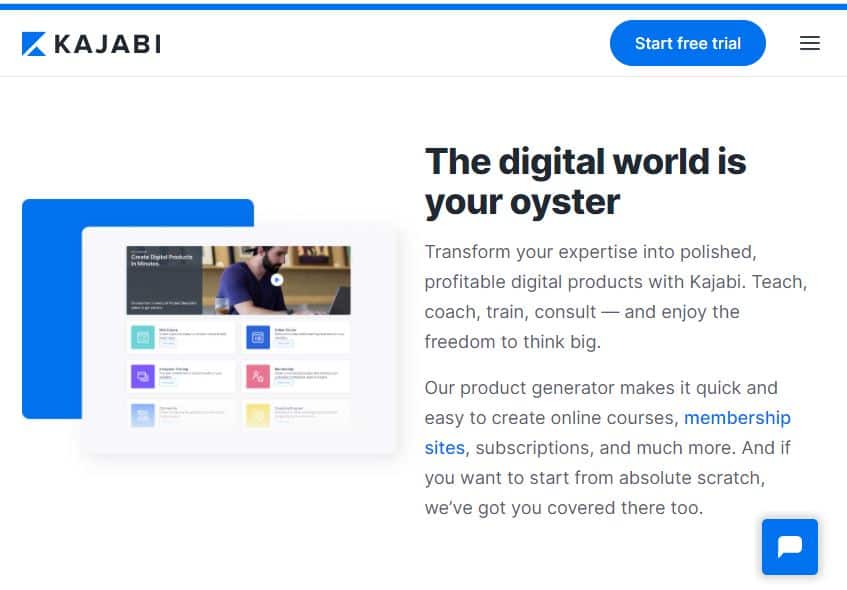 Kajabi takes care of almost the remaining hassle by creating a sample structure of your course.
Interestingly, categories and posts are included in the sample to help you upload/create your course content appropriately and efficiently.
Categories are where everything you want to create lives.
While posts are the individual lessons and modules that you create inside those Categories.
A simple drag-and-drop interface lets you reorder your Categories and Posts with ease.
You can also further organize your course by adding more categories (and subcategories).
On the platform, you get unlimited Wistia hosting for videos.
Plus, you have the option to use the videos in your blog or landing pages.
However, it's a little frustrating that you can't add multiple content types to a course module or lesson.
For example, you won't be allowed to add two videos to a lesson.
But they are constantly making improvements, so hopefully, it will change soon.
Uploading content is simple and straightforward.
Generally, you'll upload content by copying it from Google Drive or Dropbox onto your site.
This transfer method takes only one click of the mouse.
Overall, creating courses and uploading content in Kajabi is easy and intuitive.
Additionally, you won't need any third-party tools and solutions for hosting videos, etc.
Course player & content delivery
Kajabi allows you to customize your platform's look and feel using 1 of 10+ Product themes.
So, instead of the generic black look, you get to select a design that best reflects your business.
Do you want a frilly, girly look for your website?
How about a buttoned-up one?
There's something for everyone on the platform.
Are you an online guru who creates evergreen training courses?
Or do you need a membership site where users pay month to month?
You can easily choose the perfect themes for each of your needs.
You don't have to use a theme for multiple products.
Simply select themes according to your product's/business needs.
Thoughtful, practical, and powerful, the themes let you get up and running quickly.
And they're easy to customize to create an online learning experience that's as unique as your online course.
Kajabi gives you the ability to stand out with less effort.
Not only do these themes look stunning, but they are fully responsive to mobile devices and tablets.
All the course player themes are accessible on mobile devices by default.
So, your students won't have any issues viewing your content on their mobile devices.
With the comment area at the bottom of each lesson, students can ask questions and provide feedback on the material that is being learned.
And because Kajabi has a mobile app for iOS and Android, you can reach your students on the go, whenever and wherever they are.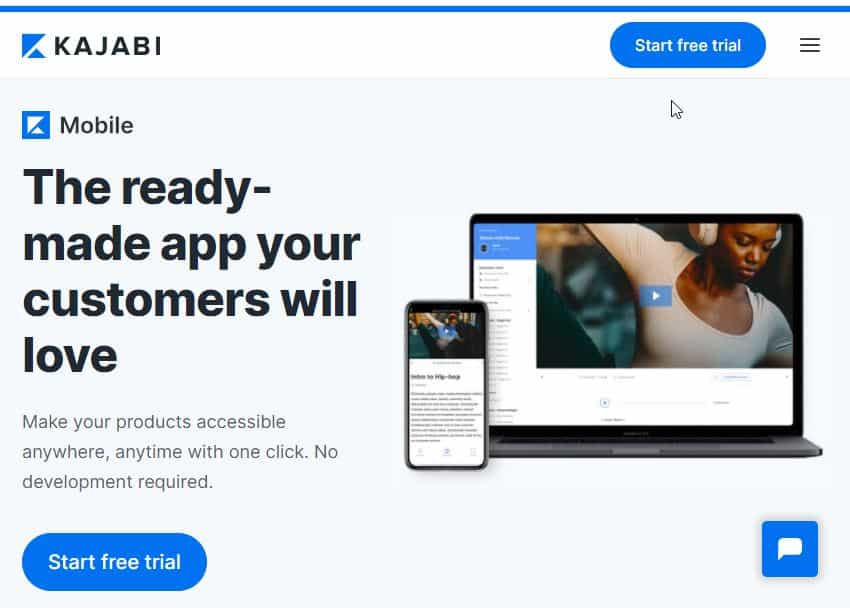 Isn't that amazing?
With the push notification feature, you can make your course engaging as much as possible.
Simply send out push messages to your students when a new lesson is available or a discussion starts on the forum.
Overall, the course delivery experience on Kajabi is very well designed and optimized for all users – from a content creator to a member.
The platform gives you as much freedom as possible, from creating your own courses to adding additional functions as you desire.
Kajabi gives you plenty of customization options to present your content in the best way for all types of learners.
Quizzes and certificates
Ready to boost your online course engagement?
Kajabi has this great tool called Assessments that can be a real game-changer for your online course.
Assessments are an integral and fundamental part of any online course.
Using assessments, you can create and add quizzes to your online course that students can take.
The quizzes can include multiple-choice questions, multiple-option questions as well as paragraph style questions, etc.
The students can be graded automatically based on their answers.
You have the ability to create different assignment types which enables you to customize your homework tasks; by adding a File Upload option for example.
Whether you're looking for a tool to assess students, gather insights about your course, or both, you can rely on Kajabi to get your students involved in their learning.
Turn your lessons into interactive, online courses and empower your students to learn more by doing.
What is the best part about it?
You can incorporate quizzes into your landing pages for lead generation and segmentation purposes.
However, while there are many wonderful things about Kajabi's Assessment tool, there are a few things that could improve.
For example, you can't import questions directly from an external file.
Also, it doesn't allow you to insert question banks and timed attempts which makes Kajabi not good for creating full-blown exams.
Does Kajabi also offer certificates like other online course platforms?
Unfortunately, Kajabi doesn't have any certificates built-in yet.
As a result, you'll have to rely on an external solution to give your students completion certificates, such as Accredible or Google Slides.
Another option is to first design your certificate to fit your brand and business.
You can use image editing tools like Canva to create beautiful, branded certificates for your members.
Once you're done designing it, you can send it to your students' emails.
Community & user discussions
Creating a community of subscribers has never been easier.
Kajabi allows you to create a thriving member discussion area of your own that will compel your users to return.
This feature is known as 'Community' in Kajabi, and it allows you to offer it to your users as a stand-alone product or as part of your membership site.
Members will enjoy a simple and engaging way to interact with each other, and they can access the community on any device, from their dashboard.
In addition to letting you enjoy discussions and activities amongst the community, your notifications tab keeps you in the loop.
Members will receive email notifications as well as mobile app notifications when another member or you, the instructor posts something.
Take the work out of building a community – you can do it in a few simple steps and make your user more engaged with your product.
By default, the community interface is a clean, modern design that looks great.
You can start a discussion in your community by creating a topic.
And you can add a post and pin it to the top of the community feed.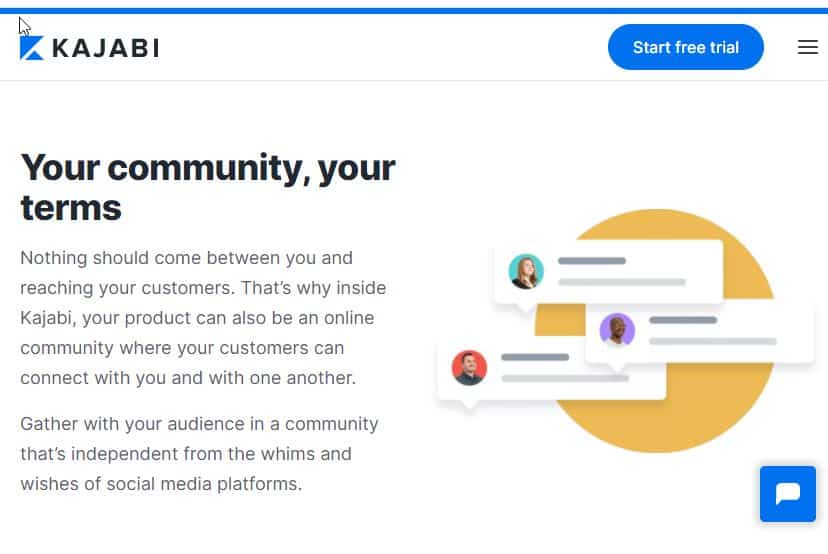 Interestingly, you have the possibility to create a 'Member Directory' page where you can display user profiles and users can see each other's profiles.
From there, users can interact directly with each other, fostering a more engaging community.
However, there's one major problem with the community feature.
It doesn't allow its users to add polls, live-streaming capabilities, or create events.
That being said, if you aren't going to use these features – then you are good to go with Kajabi.
Drip or lock course content on Kajabi
With Kajabi, you can decide how you want your students to access categories in your course by drip.
Rather than giving your members instant access to everything, you can create a schedule for them based on when they signed up.
Drip your course content and focus on releasing modules gradually to create a more personalized experience that keeps your students engaged.
One excellent tool that Kajabi offers is the ability to lock down any piece of content from the members' area.
When you create a course with content locking enabled, students must complete one lesson before they can access the next lesson.
You can as well use this as an assessment for the students to access the next module.
Kajabi makes dripping and locking really easy for you, and can help your online students be more compliant and engaged.
Kajabi automation
Automations are some of my favorite features on Kajabi.
Unlike other platforms which require that you manually track, follow up with, and take action on your members, Automations allow you to automate this process.
You can create automation that prompts students if they haven't shown up in a couple of days.
Similarly, you can give freebies or provide a free course to those who have completed a specific lesson to reward them and encourage them to take more action.
Another use would be sending extra learning materials to students who failed to make it through a specific assessment.
These are just some of what you can do with the Automation feature.
Apart from Kajabi, I'm not sure if there's any other online course platform that offers such an amazing level of automation.
Site customization and design
Kajabi is a suite of all-in-one course platforms that provides tools and services to build your own high-quality, beautiful website for your online course business.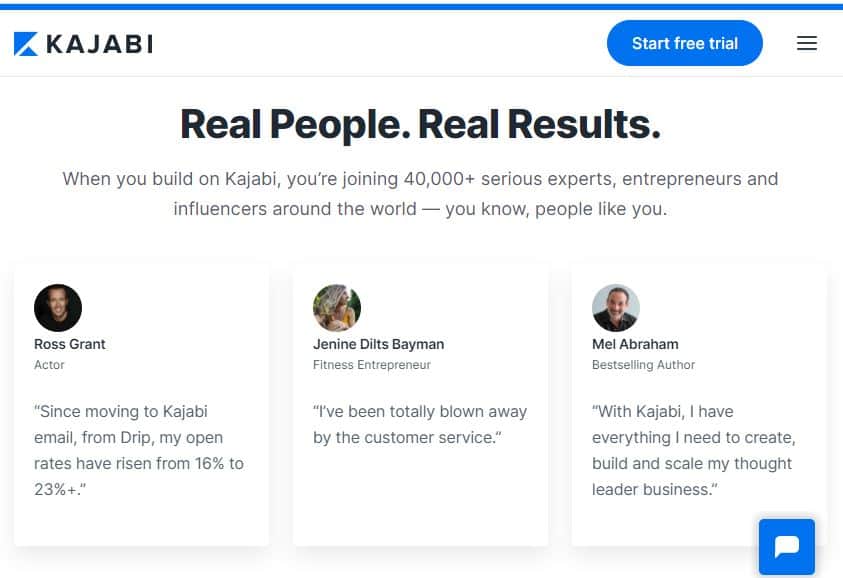 Now, let's take a closer look at this aspect of the platform and see if it is suitable enough for your needs.
Hosting, updates, and security
Kajabi is a hosted solution, no more struggles to find hosting for your website.
Just log in, use its website builder and you'll be online.
With Kajabi, you can design, build, and launch an amazing website without the hassles of dealing with a separate hosting provider.
Have a massive spike in traffic? No problem.
Kajabi will handle it for you and keep your site running smoothly.
No matter how big your business gets, you'll never need to worry about upgrading or paying for an extra package.
If you're ready to start building your website, Kajabi has answers to all of your questions.
By providing a free SSL certificate, Kajabi helps keep your customers secure and confident from the second they arrive on your site.
In addition to that, you can focus on running your business without having to worry about any technical issues.
Kajabi's tech team handles it all for you.
Furthermore, you get to customize every aspect of your website.
You can even remove Kajabi's branding on all pages, allowing you to white-label the entire site.
Kajabi's website themes
To help simplify the process of building a website, Kajabi offers pre-designed themes that can be set up in minutes with no coding or design skills required.
With a ton of great themes to choose from, the platform offers an effective and safest way to build an online store.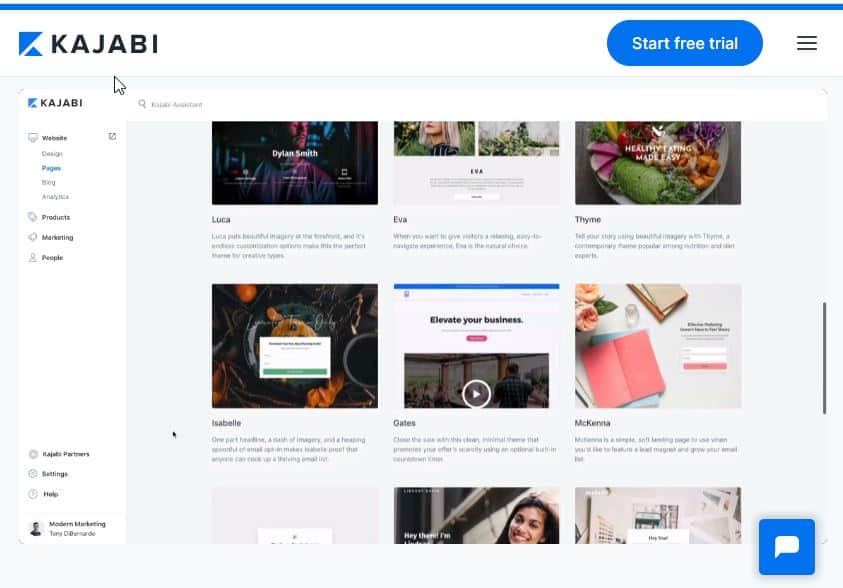 All the themes have a clean, sleek style, they're one-of-a-kind and look fantastic.
Giving your website a fresh new look is easy.
Once you install a theme, you can use the flexible page builder to create the website of your dreams.
Add unlimited sidebars, customize fonts, and set up a full-width slideshow and parallax background sections.
Another perk is the ability to import and use custom themes.
So if you have a developer on hand that can make your website look exactly how you want it, this is a great option for you.
Kajabi's page builder
Looking for an online course platform that gives you complete control over how your website pages are designed?
Kajabi's page builder allows you to design your site using an intuitive a user-friendly interface.
No prior knowledge of coding is required.
The page builder is an easy-to-use drag-and-drop tool to customize your website interface.
The page builder has a clean, fresh, and modern interface. 
Listing the sections on the left, and displaying them on the right allows users to visually create pages quickly and easily.
There are several ways to present your content on your landing page.
For example, you can create a hero section with a background image or a video (just drag and drop).
You can use multi-column layouts or opt-in forms.
You have the option of including pricing tables or listing your courses, adding a blog section with recent posts, displaying a countdown timer, etc.
It's also simple to change and update elements inside a section of your page.
Fully mobile responsive, you can use the drag-and-drop page builder on any device.
Plus, you'll never have to worry about different layouts or elements not showing up correctly.
With Kajabi, every element is optimized for mobile.
The Kajabi page builder is really handy because it's super easy to use and packed with tons of features.
No need to dig into code.
Just drag and drop items and before you know it, you'll have several completely customized landing pages.
All while avoiding the hassle and cost of actually hiring a coding genius.
Kajabi blogging capability
In addition to building a beautiful, responsive website for your business, you'll have an amazing blog that can be a powerful asset for growing your audience and brand.
Sure there are platforms that may have a few more bells and whistles, but the blogging capabilities Kajabi provides are significantly better than most.
And, remember, a strong blog is one of your best assets for attracting traffic to your site and products.
Kajabi has made significant upgrades in its blogging features.
It's not quite WordPress, but it can make any blogger happy.
Creating your own blog page enables you to make it more interactive.
You can add a photo, write a small bio and provide email subscriptions.
Blog pages are essential for getting a lot of traction as well as encouraging users to sign up.
While Kajabi isn't meant for blogging it has a dedicated blog feature that can help you publish dynamic content.
But don't expect it to be as powerful as WordPress.
Kajabi doesn't have as much flexibility in terms of extending the functionality, design options, SEO settings, or even content editing for your blog as WordPress.
Well, you might find all the bells and whistles on other platforms.
But you'll not need all those features as a course creator. Therefore, Kajabi is a solid choice if you want to succeed with your online course and membership site.
In addition to all the features you need for your business, you get everything in one secure location, making it very easy to manage your business from anywhere.
Sales and marketing
Kajabi has been re-imagined for a new generation of marketers.
It's a platform where you will find all the marketing and sales tools that you need to build your business.
Your complete online course marketing platform from one place.
Kajabi gives you the tools and services to build your audience, sell and deliver your products, and make a profit.
Using Kajabi means your time is spent on what matters most.
To build effective sales funnels and landing pages, you don't need to be a virtuoso in marketing.
Kajabi makes it easy.
Create lead-capturing forms, process transactions, and orders, build landing pages, design opt-in forms, and sales funnels.
You can even manage your email marketing from within Kajabi.
All that being said, let's dig deeper into the marketing aspect of the platform to see what it really has to offer.
Product pricing options
To sell your courses, you must build what Kajabi refers to as an Offer.
Offers are simple to create and allow you a lot of pricing versatility when it comes to your products.
You can easily set up a free course, a one-time payment plan, or a subscription.
Prefer charge recurring billing?
If you want recurring payments, you can charge your customers weekly, monthly, or yearly.
Plus, you can create a trial period as well.
Also, you can sell online courses or Memberships to your customers in any major currency including USD, GBP, CAD, AUD, etc.
And, Kajabi is really an awesome platform where you can integrate your own custom add-ons and products.
If you'd like to create customized access levels for your members, you can choose multiple products in the same offer.
You can set up a specific date for students' access to start which is useful if you want all your students to start at the same time.
To restrict access for a certain period, you can enable time-limited access to courses.
If you set a time limit, you can use this option to expire the course access after a certain period of time.
The coupon feature in Kajabi lets you create coupons that apply to specific products, or to a collection of products.
With a few clicks, you can create coupons to drive traffic to your product.
And you can create them for a set amount of time, or infinite.
Also, you have the option to create a single code coupon or bulk code coupons.
Payments and checkout
One of the interesting things about Kajabi is that you get to create a checkout page that will convert.
When you make an Offer, Kajabi creates a checkout page for you that is already well-designed from a conversion standpoint.
Quick, easy, and secure checkout.
Unlike other solutions, it only takes a single click on your website to check out.
So users don't have to go through unnecessary registration before completing their purchase.
Using the page builder, you can design the checkout page as you want.
You can decide to include a logo, testimonials, money-back guarantee badge, intro video, deal info, etc, on your checkout page.
Next to a simple and clean design, Kajabi offers full control over what information you receive from your customers during the purchase process.
On the checkout page, Kajabi offers you a choice of either adding an "order bump" to your checkout page or offering customers a 1-click upsell on the thank-you page.
Both tools can help boost conversion.
Finally, you will be able to track people that abandon carts on your site and email them in a way that leaves them with no choice but to come back.
What about the payment gateway?
Kajabi's integrated payment processing solutions work with Stripe and PayPal to keep your customers' shopping experience as smooth as possible.
PayPal provides students with a simple solution to paying for their course—no matter where they live.
They can pay for your courses or Membership program in USD or other currencies​​.
Kajabi doesn't charge any fees on transactions and your money go to your account instantly.
Needless to say, having the right features is key.
Kajabi has marketing and functionality tools that help you get your information across effectively so that users can convert into paying customers.
Kajabi's sales pipeline builder
Built to suit your online course marketing needs, Kajabi provides a spectrum of funnels designed to get your leads from the first look to the last sale.
Kajabi has a tool called the Sales Pipeline Builder which is an easy way of building marketing funnels.
Even if you have no marketing knowledge, you can still effectively market your products successfully.
When you implement a sales funnel (pipeline) using Kajabi you can build it the easy way, by selecting from one of their pre-built templates.
Give your audience a reason to opt in by offering a free resource with the Freebie blueprint.
Alternatively, use Zoom Webinar OVO to promote your online courses.
Once you've selected a blueprint, Kajabi will match you with everything needed to launch your funnel.
This includes landing pages, sales forms, email campaigns, and your offer as well as any additional marketing materials needed for your specific business.
Are you looking to run a webinar but don't know where to start?
You don't need to worry.
Kajabi has the perfect webinar blueprint for you and your business.
The Webinar Blueprint includes everything you need to present your topic online.
From the impressive marketing emails and registration pages to the on-screen presentation and download page, you'll need just a few minutes to get started.
This makes it really easy to create funnels if you don't have the time or skill to do so.
You can add and update any page or email series in your marketing funnel with just a few clicks or taps.
The great thing is that you can build standalone landing pages in Kajabi.
It's easy to do and you can choose from a library of 20+ templates.
You can customize them using the page builder.
Finally, you can build opt-in forms that you can either insert in your blog posts or use as popups to capture email addresses.
Overall, Kajabi remains an excellent way to enhance your marketing funnels and its ability to generate leads definitely makes it worth the investment.
Not sure if there's another platform out there that offer such funnel-building capability.
Kajabi email marketing tools
Kajabi allows you to do far more than just send broadcast emails to your subscribers.
From creating professional email campaigns to embedding rich media, Kajabi lets you engage with customers in a way that maximizes performance.
You can create an automated marketing sequence that is sent based on subscriber actions.
For example, you might have a sequence that is sent to new subscribers to introduce them to your brand and products.
It's so easy to create automated email campaigns that will help you nurture your new subscribers and launch your course all at once.
Once you create a sequence, it's really easy to add new emails and decide when they should go out.
Every user has interests.
You can tag your subscribers which makes it easier to segment your audiences, so you can send the right message at the right time.
There are certain limitations to Kajabi's email marketing that you should know.
For example, it lacks the ability to send the next email in your campaign a certain number of hours after the last one is sent.
Despite its limitations, with email automation within Kajabi, there are endless possibilities for your marketing.
What about affiliate marketing tools?
No need to worry about setting up affiliate links, tracking commissions, or getting payments to your affiliates.
You don't need technical skills to use Kajabi and it comes with an impressive set of features for managing online course sales and the commission process.
Users will have access to a ton of features to make the process and your life easier.
You can manage all your affiliates, set commission percentages for each of your products, keep track of your best-performing affiliates, add new ones, remove unproductive ones, etc.
To ensure a smooth sign-up process for all of your affiliates, Kajabi handles the sign-up form automatically.
They can access their affiliate dashboard through the link provided in the confirmation email.
While Kajabi offers you the ability to create an affiliate program, it has some areas that could be improved.
For example, the cookie expiration period defaults to 30 days.
You can't change or customize it.
Also, there's no option to upload assets or swipe files for your affiliates to use in their promotions.
Does Kajabi offer any third-party integrations?
Yes. Apart from Kajabi's effective email marketing tools, you can have other email marketing tools integrated.
Currently, it lets you integrate with five popular email marketing tools which include Active Campaign, Drip, Aweber, MailChimp, and ConvertKit.
Kajabi also integrates with Zapier, so you can use it to create an indirect integration with literally any popular marketing tool.
For example, you can integrate Kajabi with an email automation platform like Infusionsoft via Zapier.
Also, tools like Google Slides (which is good for issuing certificates to your students) can be integrated via Zapier.
Interestingly, the platform integrates with Google Analytics and Segment, so you can see what your users do on your site.
With the integrated analytical tools you can find several reports for tracking things like page views, revenue, opt-ins, affiliate sales, etc.
This will in turn give you great insights to better optimize your product and website for success.
It's really helpful when you know what works and what doesn't, and that's exactly one of the advantages of using Kajabi.
Users management
You can find and manage your users in the Kajabi People section. For example, you can add new users or delete unwanted ones.
You have the option to populate your Kajabi site by bulk-importing new users and granting them access to specific content.
To help you manage your existing customers efficiently, the platform has a ton of handy filtering options.
Advanced user filtering allows you to target and engage customers using their purchase history, enrolled Products, and the coupons they've used.
You can do bulk actions on your filtered lists like email sequence management, access right setting, coupon/discount assignment and so much more.
Kajabi shows you everything if you want to see the entire lifecycle of a particular user.
You will see products they bought and when they bought them, what things they have access to, their course results, what emails they've got, and more.
Customer Support
When it comes to customer support, Kajabi makes sure that you have all the help you need to set up and run your online course.
They offer free 24/7 Live Chat Support and respond to customers' inquiries in just a few minutes.
So if you're unfamiliar with how Kajabi works, or your settings, or the system itself, or what's happening on screen, and you have no idea how to proceed, there's always a live chat readily available where their reps can help you out.
Nothing is better than getting reliable customer support when you need it.
On top of that, Kajabi has tons of detailed tutorials (videos) that show you how to use Kajabi step by step.
The Kajabi Assistant bar is a fantastic way to find all the answers to your questions.
Just search for useful tutorials on what you need help with and save time looking for what you need.
That's not all though as the site offers you access to Hero University which has a lot of free training on various topics like marketing, promotion, and other skills to help you build your own online course.
Kajabi is also interested in recognizing and rewarding those who work hard.
Through the Kajabi Hero program, they're able to give back to their creators that have done pretty well.
You can learn a lot from Kajabi's Facebook group alone.
There are 22,000 members who are willing to help you get started with your products and membership site.
Pricing Plans
Before you make a decision about Kajabi, you may want to know the cost.
So, let's see the price you will have to pay for all the benefits and functionality the platform has to offer.
Kajabi offers three levels of pricing to fit every business.
Any of the plans offer you unlimited bandwidth and freedom from transaction fees.
Kajabi's lowest plan, the Basic Plan, gives your business the widest array of features and functionality.
With the Basic Plan, you can build up to 3 Products, arrange them into up to 3 Sales Pipelines, and monitor your success.
This plan cost $149/month. This is a perfect plan if you're just getting started.
The Growth Plan, which costs $199 a month, is the second price plan.
The Growth Plan gives you the freedom to create more value for your customers.
It allows you to create a larger number of products and pipelines, and lets you add more members.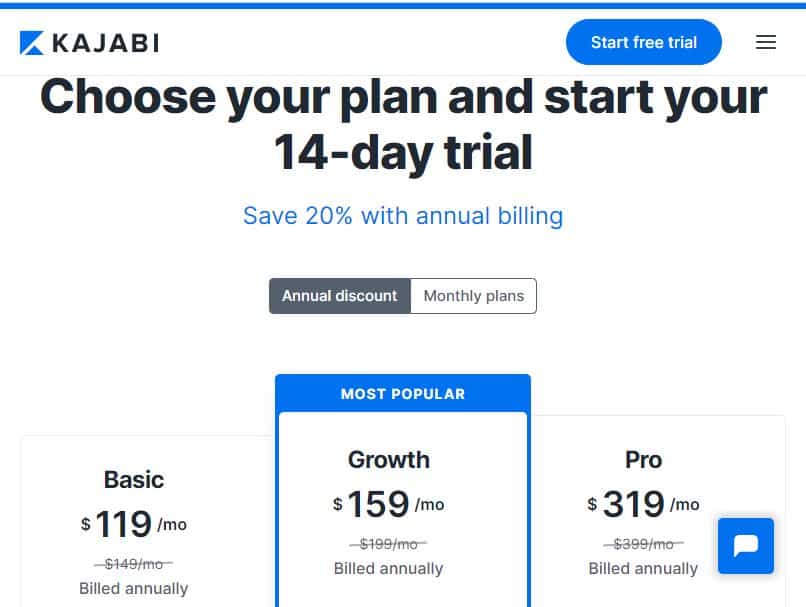 The Growth Plan also offers you an affiliate marketing program and has automated features available that you can't get on the Basic Plan.
You may want to upgrade to the $399/month Pro Plan as your business expands and your needs change.
While the Growth and Pro Plans have additional features that might be "beneath your needs", they are still viable solutions for many businesses.
I recommend starting with the Basic Plan.
If, however, you find it does not meet all your business objectives, then you can upgrade accordingly.
Kajabi doesn't offer a free plan. However, to help you get started with the platform, it gives everyone a 14-day free trial.
But why is Kajabi so expensive?
Kajabi offers a variety of features that help you grow your membership business.
However, it's probably not right for you if you're just looking for something to keep track of sales or if you're on a tight budget.
There are several online course platforms out there, but Kajabi is by far the best value-for-money product.
The best part is, its developers continually update new features and integrations, so it gets better and better over time.
While many would argue that Kajabi is a bit expensive compared to other course platforms, it's important to understand all the features that it offers.
Are there worthy alternatives to Kajabi?
There are many other platforms out there, but when it comes to all the features Kajabi has and the functionality, one might think there are no other competitors.
Kajabi happens to be a very good platform, but it's not the only one, and the alternatives are just as deserving of your attention.
In case you would like to check out other similar platforms, below are my best picks.
FAQs
Is Kajabi good for SEO?
Kajabi offers no direct SEO advantages.
However, the platform does offer massive flexibility in page design which means you can go out of your way to create an SEO-friendly site without needing to worry about it too much.
Does Kajabi offer a 30-day money-back guarantee?
Yes, Kajabi offers a 30-day money-back guarantee.
This allows you enough time to try out the service and be sure that it is right for you.
If you are not happy with their services, just contact them and request a refund within 30 days.
Can I sell physical products on Kajabi?
Yes, Kajabi can be used to sell physical products in addition to the course materials that are hosted on the site.
Physical products have one of the highest average order value rates, so there is a lot of potential in selling them on Kajabi.
Does Kajabi integrate with WordPress?
Yes, Kajabi fully integrates with WordPress.
It makes it easy for you to leverage the power of one of the most popular publishing platforms on the web.
Is Kajabi HIPAA compliant?
Kajabi is not HIPAA-compliant and has no plans to become one. Kajabi provides information for informational purposes only and does not offer any warranty.
Conclusion
If you're a solo expert who wants to build a beautiful website that reflects your brand, Kajabi is the simple platform for you.
It also helps if you want to set up an online store that promotes and sells your courses, e-books, or other products.
If you're an expert in any field, Kajabi is the perfect platform for you to leverage your expertise, grow your business, and build a long-lasting brand.
Of course, before deciding to settle for a particular platform, you should do your homework and sort out your needs and goals.
But overall, Kajabi is an easy-to-use platform for creating online courses and membership sites.
It has all the marketing tools you need to make your online course and membership site a success.
While the starting price may seem a little high, the pricing structure works to your advantage as you scale. You get a lot of bang for your buck.
Want to give Kajabi a try?
You can start a free trial of the platform by clicking on the button below.
I hope that you found this review of Kajabi useful.