You might want to consider a number of online course platforms when looking to create an online course or membership site.
Though there are many platforms in the market, some of the most powerful and versatile ones happen to be Kajabi and Thinkific.
And I am going to be diving into the comparison of these two platforms to give you a rundown of which is better than the other.
Of course, you're looking for a solution that's reliable and easy to use.
That way, you have more time to concentrate on creating your content, growing your audience, and making money.
But this is totally dependent on the online course platform you decide to use.
There are hundreds of posts on the internet that compare Kajabi vs Thinkific but most of them lack the key information that could help make the right decision.
No doubt, Kajabi, and Thinkific are two great online course solutions.
They both have their unique pros and cons but choosing the best for your business ultimately comes down to knowing what the two have to offer.
Does it fit into your budget? Will your needs be met?
How much time will you need to learn how to use the platform?
What is the cost of using any of these online course platforms?
These and many other questions are what you would probably ask before settling for any of the two platforms.
But don't worry, I've done the heavy lifting for you.
This post discusses the various features, benefits, and drawbacks of Kajabi vs Thinkific in detail so that you can make an informed decision.
You can get a detailed review by reading the whole article at once, but it will take some time.
If you just want to read more about a specific feature, use the links below to skip to the section relevant to you.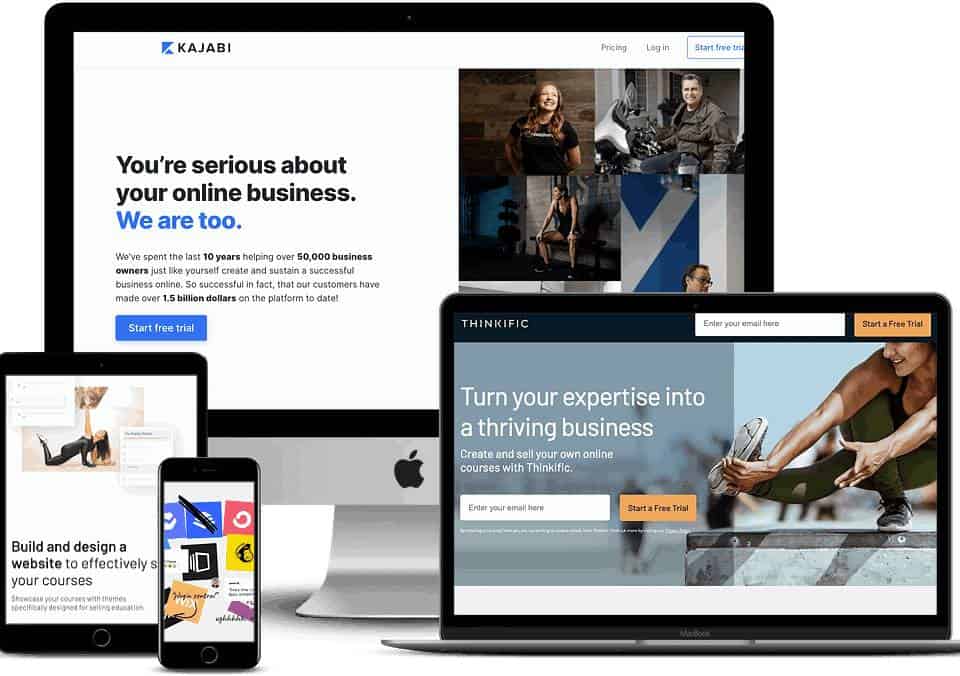 Quick Comparison
Kajabi
Thinkific
Winner
1. Ease of
Use
It might be overwhelming
for someone just looking to
create online courses.
Thinkific is known for
its ease of creating a
course quickly.
Thinkific
2. Course
Creation &
Engagement
Unfortunately, Kajabi
does not yet have any built-in certificates.
Thinkific let you easily
issue a certificate of completion.
Thinkific
3. Site Design
& Customization
Kajabi isn't designed for
blogging, but it does have
a blog feature that can assist you in publishing dynamic content.
Thinkific lacks a blogging function, users would have to rely on WordPress or another blogging site like Squarespace.
Kajabi
4. Sales &
Marketing
Kajabi has some very useful resources like the landing page builder, email marketing tools, and automation that Thinkific doesn't have.
Thinkific lacks the capacity to create marketing funnels or landing pages, you'll need to focus on third-party services.
Kajabi
5. Customer
Support
Kajabi offers free Live Chat Support 24 hours a day, 7 days a week, and answers customers' requests in just a few minutes.
Thinkific's main service channel is email, which is available Monday through Friday from 9 a.m. to 5 p.m. PST.
Kajabi
6. Pricing
Kajabi's starting price is high and offers no free plan
Thinkific's pricing seems to be more beginner-friendly and offers a free plan.
Thinkific
Kajabi vs Thinkific – A Detailed Comparison
Kajabi and Thinkific are two powerful, proven, high-quality platforms that offer training and monetization tools for online course entrepreneurs.
Both are very good options but only one can be the best.
Let's look closer into the features of the two online course platforms to help you make an informed decision that will benefit your business needs.
1. Ease of Use
The primary purpose of an online course platform is to allow the instructor to quickly take in-class materials and publish them online so they are accessible to students anytime, anywhere.
Therefore, it's important you choose a platform that is easy to use.
An easy-to-use online course platform offers you the ability to create and deliver an online course with little to no technical assistance.
The platform allows you to easily post your syllabus, upload documents, create assignments, and more.
Some online platforms can be cumbersome and overly complex.
If you're holding an online class, your students are going to be logging in from different locations.
So, as an instructor, you will want to look for something that has a simple user interface.
Kajabi
Let's be honest – it doesn't matter how great of a product or service you're offering, if your site isn't easy to use, people aren't going to buy from you.
Are you constantly plagued by tech headaches?
Kajabi has a solution that will put you back in control.
With Kajabi, they eliminate tech headaches so that you don't need technical skills to create gorgeous products and membership sites.
Kajabi makes it dead simple to quickly build and customize your own website – no coding required.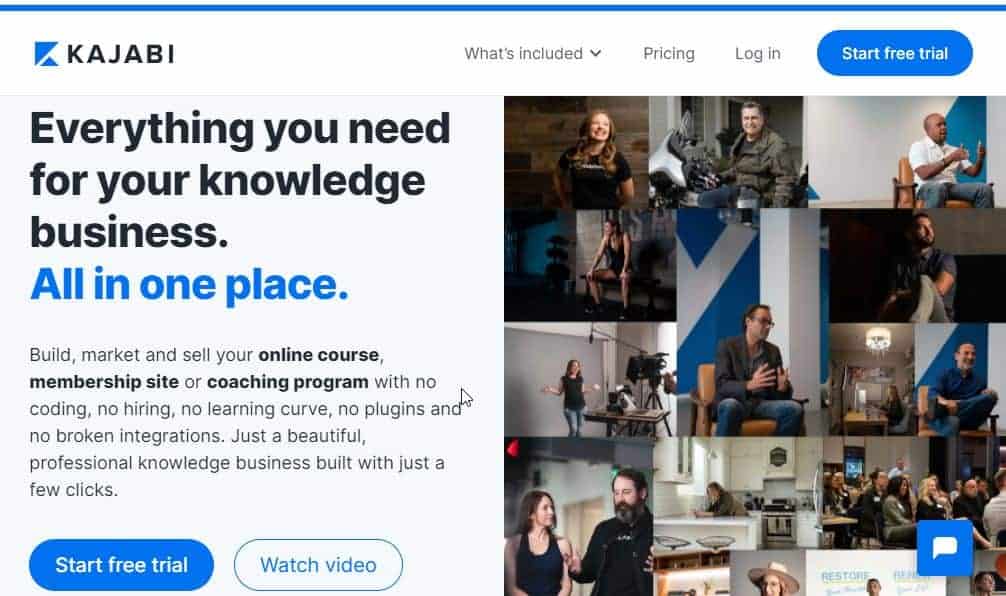 Kajabi is a complete platform that will allow you to speak to your target audience and convert them into customers more easily than ever before.
Because it is a completely unified platform you will be able to quickly set up a store where your prospects can actually buy the courses you're selling online.
On Kajabi, you get all the tools you need to communicate effectively with your audience.
You have training on how to use it all, one place to manage your customer data, and one user-friendly interface.
However, the platform is packed with a lot of features beyond just creating and publishing your course.
So, there might be a little hassle navigating through those features.
Kajabi doesn't just give you the ability to create, it gives you everything you need to create, grow and succeed.
Thinkific
Thinkific was built with simplicity in mind.
The platform is designed to make it easy for anyone, no matter your technological know-how, to use.
It's similar to creating a webpage or blog using WordPress and allows you to easily edit the content with only a few clicks.
The dashboard is organized and designed to be intuitive, so you can easily find what you are looking for.
The most advanced feature is the integrations available on courses that utilize a third-party application like MailChimp.
You set up the content once and then students are able to view the course on their devices.
Winner
Thinkific is known for its ease of creating a course quickly so that you can start selling your course immediately.
Kajabi on the other hand is packed with features and services to help you grow your online course business.
The simplicity of Thinkific is a result of the fact that is geared toward people looking just to create and sell online courses.
Kajabi on the other hand is more like a complete platform for online business.
It might be overwhelming for someone just looking to create online courses.
Therefore, when it comes to ease of use between the two online course platforms, Thinkific takes the medal.
Really? Don't worry, you will get to understand better as we progress.
2. Course Creation & Engagement
An online course can be designed in any way you see fit.
However, it needs to look good and be delivered professionally to your audience if it's going to be a success.
In this section, we'll analyze how the two different platforms help you create courses and engage your students.
Kajabi and Thinkific have a lot in common when it comes to helping you create your courses and engaging students.
Both platforms allow you to host an infinite number of videos on Wistia, make quizzes, conveniently organize your content into lessons and modules, and monitor the course and student progress, among other things.
But, there's still a slight difference between the online course platforms.
What could it be?
Kajabi
Structure and put your course online in just minutes.
It's easy to create your own content, organize it, and present it beautifully.
It has a blueprint feature that makes it easy for you to create any kind of digital product, whether it's a course, membership site, or live event.
The Product Blueprints are simple and designed to be used within a couple of minutes. You can be up and running in no time at all.
With a Product Blueprint selected, Kajabi will help structure your course into digestible, logical sections that are easy for you and your customers to follow.
Your course structure will be set up for you, with everything organized into categories and posts ready for you to fill in with the information that makes your course great.
This feature is great for categorizing all of your content into different categories and making it easy for your students to follow each lesson appropriately.
Posts are what each lesson or module will actually be about – it's where your content goes.
A category can contain any number of posts. The posts are much like blog entries. The only difference is that they exist inside a category.
Once you've added all your product information, simply drag and drop to organize your categories and posts order the way you like.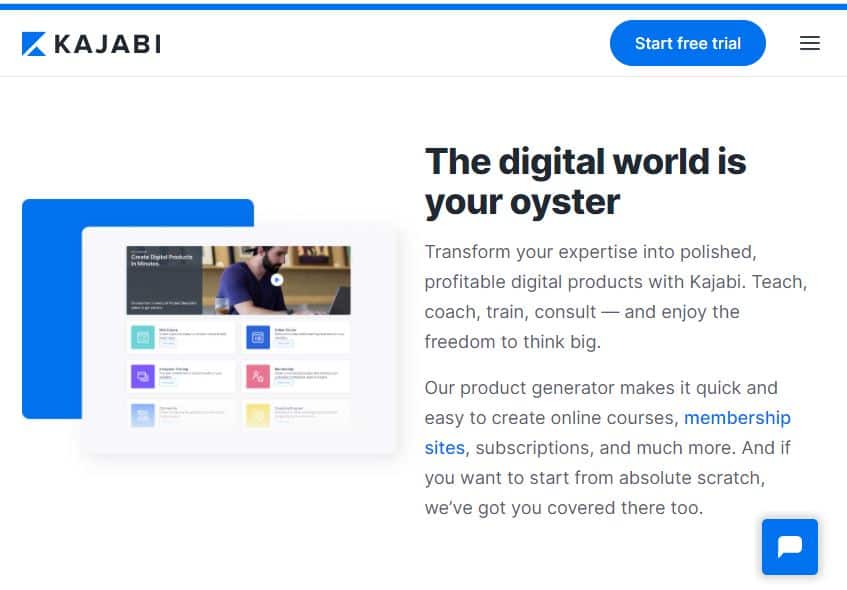 It's as easy as that.
In case you want to categorize your course further, you can create subcategories with a few clicks.
Using Subcategories is a great option if you have a course that can be broken down into chunks, as it does make the page more scannable.
On this great online course platform, you get unrestricted Wistia video hosting.
In addition, you can embed the videos in your blog or landing pages.
However, it's a little frustrating that you can't add multiple content types to a course module or lesson.
For example, you won't be allowed to add two videos to a lesson.
However, they are still improving, so hopefully, this will change soon.
The process of uploading content is clear and easy.
In most cases, you'll import content to your site by copying it from Google Drive or Dropbox.
This transfer method takes only one click of the mouse.
Overall, creating courses and uploading content in Kajabi is easy and intuitive.
Additionally, you won't need any third-party tools and solutions for hosting videos, etc.
Unfortunately, Kajabi does not yet have any built-in certificates.
As a result, you'll have to focus on an external solution, such as Accredible or Google Slides, to provide the students with completion certificates.
Students may ask questions and provide input on the content being taught in the comment section at the bottom of each lecture.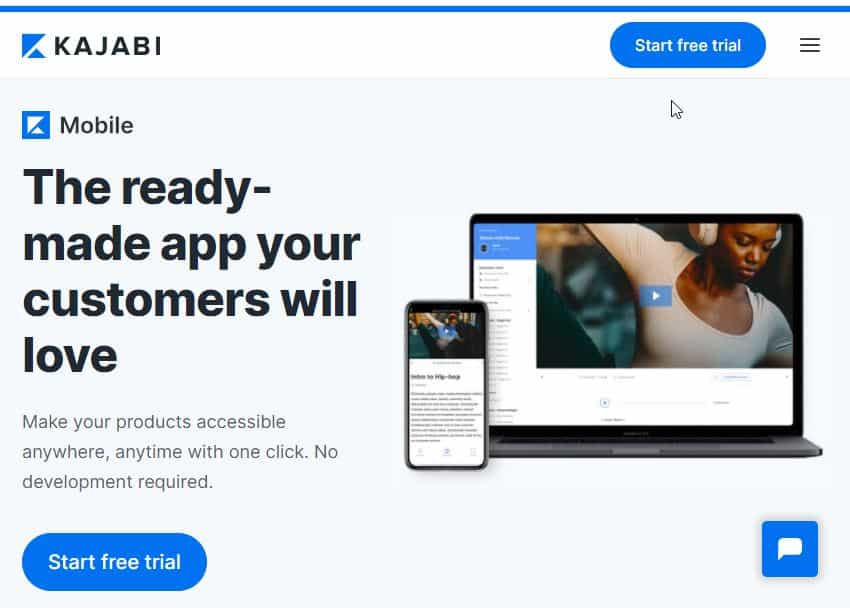 And, since Kajabi has a smartphone app for iOS and Android, you can reach out to your students at any time and from any place.
You can make your course as entertaining as possible by using the push notification function.
Simply send push notifications to your students when a new lesson is available or a platform thread begins.
Overall, Kajabi's course delivery experience is well-thought-out and tailored for all participants, from content creators to members.
You have complete control over the platform, from making your own courses to adding new resources if required.
Kajabi offers you a lot of flexibility in terms of how you show your content to different groups of learners.
Thinkific
If you want to make money by creating your own online courses, there's no better place to start than Thinkific, particularly if you're a beginner.
Thinkific is known as one of the best online course platforms.
The platform provides a comprehensive range of tools to assist you in creating a sleek and appealing platform where people can buy your online courses.
Its adaptability is backed up by its simplicity, with the period between signing up and posting your first course being shorter than it has ever been.
Same as Kajabi, the drag-and-drop course creator is one of the best things about Thinkific.
It makes it possible to quickly add, remove, or modify things like text, videos, images, and more.
Creating courses has never been easier, faster, or more effective. 
You can create courses that involve your students and motivate them to take action using a simple drag-and-drop editor.
The editor is very user-friendly, and you should be able to freely arrange your course elements and materials.
You can rearrange, add, or remove parts of your course pages, for example.
The ultimate aim is to tailor each online course to your personal tastes.
By celebrating and presenting proof of course completion, Thinkific Certificates allow you to honor and inspire your students.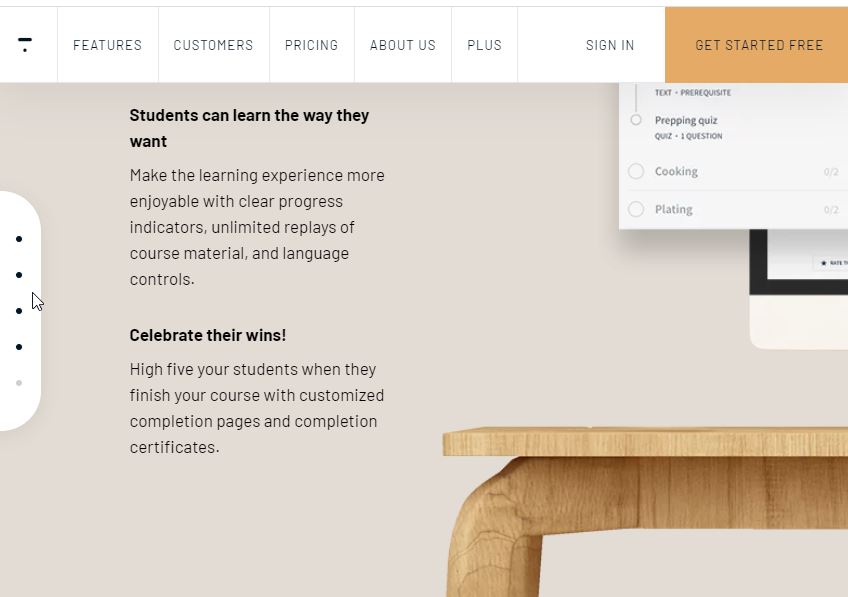 Choose from a variety of certificate designs or upload your own background file.
Prefill information such as the student's name, completion and expiration dates, and custom fields automatically.
Does Thinkific offer a mobile app too?
No. While Thinkific does not currently have a mobile app, it is entirely mobile-friendly, allowing your students to access your courses from any phone, tablet, or device.
Thinkific is also as flexible as possible when it comes to online course material.
You could have audio files, PDFs, quizzes (including simple and advanced quiz types), type forms, surveys, Google Docs, Download options, and so on in addition to the standard text and video.
Interestingly, every course material you upload is hosted on Thinkific.
That means you won't have to worry about file compression or other memory-saving techniques.
And unlike Kajabi, you can add multiple files of the same format to a lesson.
Winner
It is obvious in this section that Thinkific is the winner. Though they both have a lot in common.
Creating a course is straightforward with the drag-and-drop builder and they both accommodate whatever file you upload.
You don't have to start from scratch, they both offer templates to speed up your course-creating process.
Well, you might say one offers a mobile app but the other doesn't.
However, the option of adding multiple file format to a module/lesson that Kajabi lack gives Thinkific an edge.
Also, Thinkific let you easily issue a certificate of completion which is a great way to motivate and reward your students for their commitment to your online course.
3. Site Design & Customization
You must have a front-end website if you are serious about growing your online business.
Kajabi and Thinkific, fortunately, make it simple to design and create a full-fledged website for your company.
The fundamentals of each platform are almost identical.
Both sites include free hosting and SSL licenses, as well as technical aspects of website management such as security, updates, and maintenance.
You get a free subdomain for either site, and both allow you to use a custom domain if you like.
Does that mean they're both perfect under this section?
Well, the best way to find out is to dig deeper into each of the two online course platforms.
Kajabi
Kajabi is an all-in-one course platform that gives you the resources and support you need to create a high-quality, attractive website for your online course company.
The platform is a hosting solution, meaning you won't have to worry about finding a place to host your website.
Simply log in, use the page builder, and you'll be live in no time.
Without the hassles of dealing with a different hosting service, you can plan, create, and launch an awesome website with Kajabi.
Seeing a significant increase in traffic? It's no matter.
Kajabi will take care of it for you and keep your website up and running.
You'll never have to think about updating or paying for an extra kit, no matter how large the business becomes.
The platform has all the answers to your questions if you're ready to start creating your website.
It helps you keep users safe and confident from the moment they arrive on your site by offering a free SSL certificate.
Kajabi provides pre-designed themes that can be set up in minutes with no coding or design expertise involved, making the process of creating a website much easier.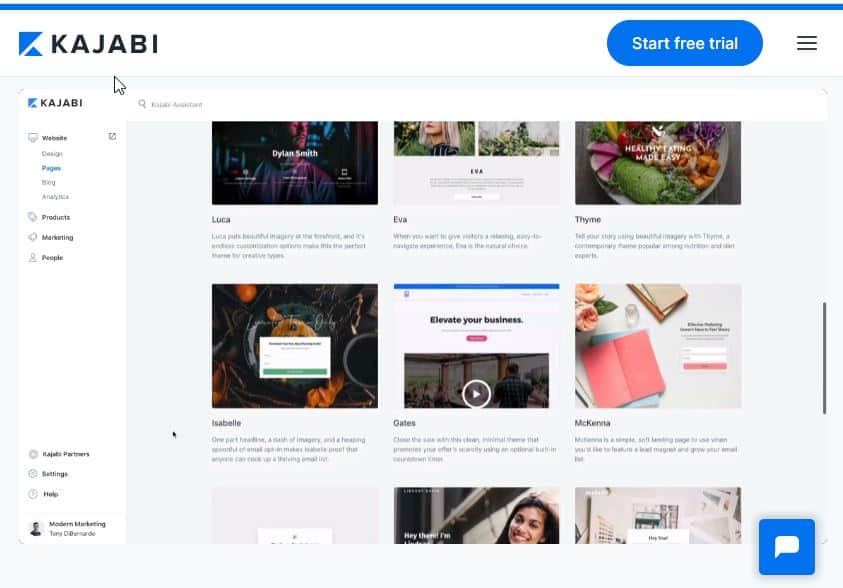 The platform provides an effective and secure way to create an online store, with numerous great themes to choose from.
You can use the flexible page builder to design the website of your dreams once you've installed a theme.
Set up a full-width slideshow with parallax backdrop pages, as well as an infinite number of sidebars.
The freedom to download and use custom themes is another perk.
This is a perfect choice for you if you have a developer on hand who can make the website look as you want it to.
On your landing page, you can present your material in a variety of ways.
You may make a hero segment with a background picture or a video, for example (just drag and drop).
As you wish, you may use opt-in types or multi-column formats.
Kajabi gives you options to add price tables or list your courses, create a blog section with recent updates, display a countdown timer, and so on.
You'll have an awesome blog in addition to a stunning, interactive website for your market, which can be a powerful tool for growing your audience and brand.
Also, keep in mind that a good blog is one of the most valuable tools for drawing visitors to your website and whatever you're selling.
Though Kajabi isn't designed for blogging, it does have a blog feature that can assist you in publishing dynamic content.
Since it's not a super blogging platform, don't expect it to be as efficient as WordPress.
Thinkific
Whether you're looking for a new content management system or an entire online education platform, Thinkific has the most customized features of any other platform available.
Thinkific is a complete education platform.
It handles all the details, so you can focus on what you love—teaching online.
With easy customization of your site and a beautiful design, it makes for a stunning online school or learning community.
Thinkific provides full flexibility when it comes to designing and customizing your online course site.
Choose from one of the pre-built templates to get started.
Its website builder lets you create a course site and sell your courses online with no coding required.
With the Thinkific theme options, you get to choose a theme from their selection of three professional, clean, and purpose-built themes.
Each one comes with multiple sub-styles, which can be mixed and matched to create a custom website that reflects your brand just like it should.
Theme can be added to the site with a single click, and the whole process of selecting Presets to get up and running can be completed in a matter of minutes.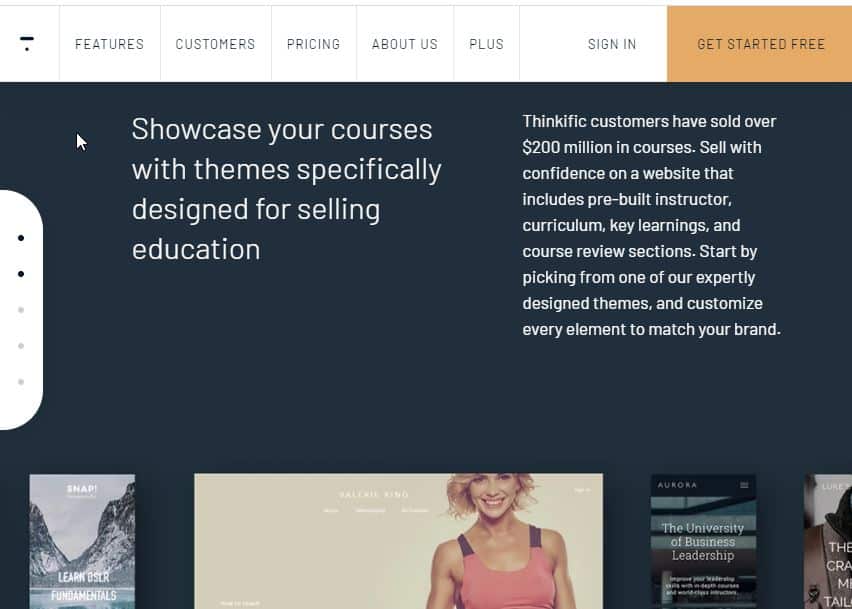 And you can further design and customize your pages to fit your unique style.
Thinkific has an SSL certificate that encrypts and protects the data that you send to the server for processing.
It is a process of converting information or data into code so it cannot be read by humans.
This prevents various forms of spying such as passive interception and eavesdropping.
Does Thinkific offer blogging features too?
It's unfortunate that there's no built-in blog option.
However, you can use the custom pages feature to create a personal blog which may be overwhelming compared to real blogging features Kajabi offers.
If you want a more complex solution, I recommend using an external platform like WordPress and using custom links in your header to link your Thinkific content to the blog.
Overall, Thinkific offers exceptional features as much as Kajabi when it comes to customizing and designing your pages.
Their features are flexible and easy to use to create and design your brand up to your own unique image.
Winner
Blogging is a great way to build your online course business.
Blogging helps you in connecting with your audience, build trust, increase brand awareness and gives you strategies to sell your product effectively.
Since Thinkific lacks a blogging function, users would have to rely on WordPress or another blogging site like Squarespace.
Though Kajabi's blogging functionality falls short of WordPress in terms of design choices, usability, and SEO power, it is still versatile and provides all a typical blogger requires.
So needless to blow the whistle, Kajabis is the winner when it comes to online course site design and customization.
4. Sales & Marketing
It takes a lot more than just making a product and putting it online to run a profitable online course company.
To attract more students, you must first create an audience and then advertise your courses effectively.
Most online course platforms, like Thinkific, provide only the ability to process payments and other simple marketing resources like discounts and packages when it comes to sales and marketing.
Kajabi, on the other hand, helps you not only receive payments but also manage the entire marketing campaign on the same website, which sets it apart from Thinkific.
And in this business, your success is dependent on the sales and marketing tools you have at your reach.
Therefore, going for online course platforms that offer most if not all of these tools is important.
However, let's look at the basic features and resources that these two online course platforms have to provide for managing your online business's promotions and sales.
Kajabi
For a modern wave of advertisers, Kajabi has been reimagined.
It's a forum where you can get all of the marketing and sales resources you'll need to grow your business.
Your one-stop shop on all things related to online course marketing.
Kajabi provides you with the tools and resources you need to grow your audience, market, and distribute your products for maximum profit.
When you use Kajabi, you can focus on what really matters.
You don't have to be a marketing guru to build successful sales funnels and landing pages.
It's easy with Kajabi.
Develop landing pages, design opt-in forms, and sales funnels, as well as lead-capture forms, purchases, and orders.
Easily run your email marketing automation campaigns, sales, and webinars from within Kajabi.
Create unlimited sales funnels, add personalized touches to your cart abandonment emails, and more using the powerful automation that Kajabi offers.
To sell your courses, you'll need to create an Offer in Kajabi.
Offers are easy to set up and give you a lot of price flexibility on your purchases.
A free course, a one-time payment package, or a membership can all be quickly set up.
Want recurring billing?
Kajabi lets you bill your customers weekly, monthly, or annually if you want periodic payments.
Kajabi's coupon functionality allows you to generate coupons for individual goods or a group of products.
As a course owner, you can generate coupons to bring traffic to your product with just a few taps.
You have the option to make them valid for a certain period of time or indefinitely.
You may also generate a single code coupon or a collection of bulk codes.
What about payment and checkout on Kajabi's platform?
One of the coolest features of Kajabi is the ability to build a conversion-optimized checkout page.
When you make an Offer, Kajabi automatically builds a checkout page for you that is already optimized for conversions.
Checkout is fast, easy, and safe.
Unlike other options, you can check out with only one click on your website.
You can customize the checkout page using the page builder.
On your checkout page, you can have a logo, testimonials, a money-back guarantee pin, an intro video, deal details, and so on.
Kajabi provides complete control over the input you collect from your customers during the purchasing process, in addition to a clean and tidy interface.
The platform offers two payment options, PayPal and Stripe.
Unlike Thinkific, PayPal payment options are available in Kajabi for all pricing forms, including monthly subscriptions and payment schedules, as well as all available currencies.
Does Kajabi allow users to promote their products with affiliate marketing? YES.
There's no reason to stress over creating affiliate IDs and links, keeping track of commissions, or paying the affiliates.
You can control all of your affiliates, set commission percentages on any of your offerings, keep track of your top-performing affiliates, add new ones, and delete inactive ones, among other things.
Kajabi manages the sign-up form for all of your affiliates to ensure a seamless sign-up process.
Finally, the abandoned cart functionality allows you to monitor buyers who leave your platform without finishing their order and send them an automated follow-up email, which is a great way to increase conversions.
Thinkific
As you would expect from one of the best online course platforms, Thinkific offers a lot of features to help users with sales and marketing.
For example, any paying package has the option to create vouchers for use in promoting courses or packs.
You may choose the coupon's dollar or percentage value (e.g., $25 off or 25% off), as well as the coupon's expiration date (optional) and the number of times it may be utilized (optional).
Course owners can choose if any piece of material they add to a course will be included in the course's free trial.
The presence of free trial material in a course is noted on the course's sales page.
Students can sign up for free, but they must pay to view all material that has not been designated as free.
What about currency for pricing?
Only at the site level does Thinkific let you choose the currency you accept for your course.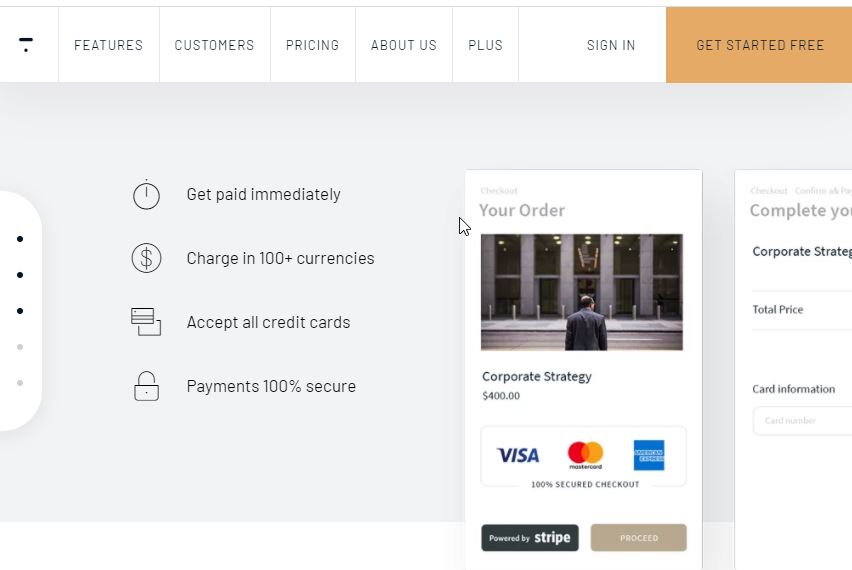 As a result, you can't price the same course in several currencies or separate courses in different currencies, which can be a drawback if you have a largely foreign audience.
Also, only courses with a one-time fee will use PayPal, according to Thinkific (i.e. no PayPal access for monthly subscriptions or payment plans).
Furthermore, it is only available if the courses are priced in US dollars.
But there's an interesting marketing feature that Thinkific offers.
You can use the sales widget option to create HTML codes that you can embed on your current website to direct visitors to a Thinkific course landing page or directly to check out.
The widget can be shown as a button or as a button with a product picture and any text you want.
It's a simple feature to use, and it makes selling courses from your current website a breeze.
Thinkific allows you to promote your course with an affiliate program, and it makes the process easy.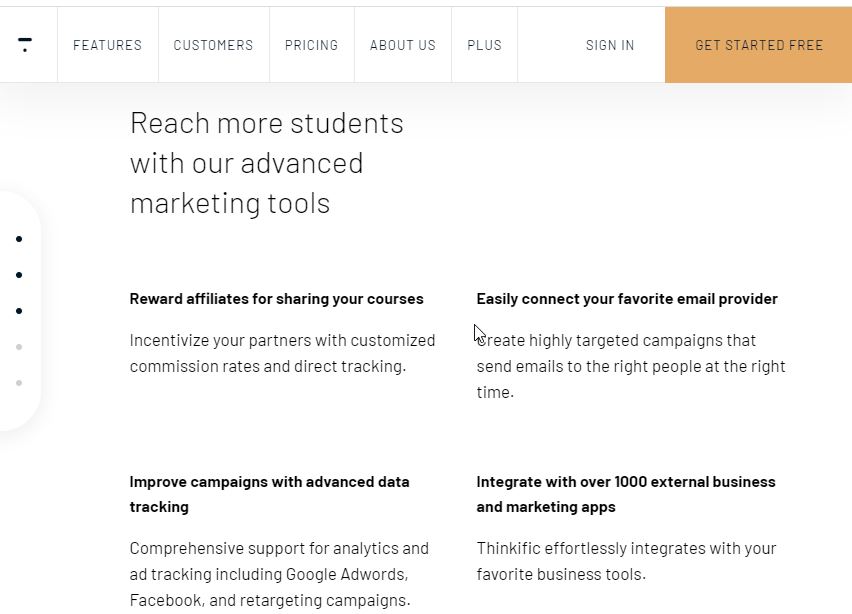 Simply add your affiliates as a user and assign them as an affiliate.
Thinkific can keep track of the courses or packages an affiliate offers and the income generated.
However, individual payments are handled outside the platform, much as with teacher revenue sharing.
Thinkific has an out-of-date two-step checkout process in which a student must first build an account with your school before proceeding to the payment page.
This method of checkout is bad for sales because it can cause many users to abandon the platform without ever making a purchase.
Unlike Kajabi, Thinkific does not allow you to add an order bump or track abandoned carts.
However, It does allow you to add an upsell offer to your "Thank You" page, but there is a catch: the same offer is allowed for all courses, and there is no way to display different upsell deals for different courses.
Finally, Since Thinkific lacks the capacity to create marketing funnels or landing pages, you'll need to focus on third-party services like ClickFunnels or Leadpages to handle these tasks.
Winner
Unlike Thinkific, Kajabi's distribution and marketing tools include not only taking payments and selling your products but also resources for growing and engaging your audience.
So, Kajabi has some very useful resources like the landing page builder, email marketing tools, and automation that Thinkific doesn't have.
If sales and marketing is your priority, you can't but choose Kajabi over Thinkific because of the excellent marketing features it offers.
Kajabi is clearly a better choice than Thinkific if you want to host and offer your courses as well as manage your entire marketing on a single site.
Effective marketing is the bedrock of any successful online course business. And on this, Kajabi clears the table and beat Thinkific hands down.
5. Customer Support
Another critical consideration when comparing Thinkific and Kajabi is customer service, and really, the two online course platforms' support teams are great.
When you have a problem or are stuck with something, their customer service department goes over and above to assist you.
So, does that mean they both deserve the medal under this section?
Well, let's see.
Kajabi
Kajabi ensures that you have all of the tools you need to set up and run your online course when it comes to customer service.
They have free Live Chat Support 24 hours a day, 7 days a week, and answer customers' requests in just a few minutes.
If you have any questions about how Kajabi functions, your setup, or what's going on screen, there's always a live chat option where one of their representatives will assist you.
Nothing beats having dependable customer service anytime you need it.
Kajabi also has a lot of step-by-step tutorials (videos) that teach you how to use the platform.
The Kajabi Assistant bar is a great place to get all of your questions answered.
Simply scan for helpful tutorials on the subject you need assistance with, and you can save time in your search.
Kajabi's Facebook community alone can help you with whatever issue you have using the platform.
There are 22,000 members available to assist you with getting your brand and membership platform up and running.
That's not all; the platform also gives you access to Hero University, which provides a wealth of free content on subjects such as networking, advertising, and other skills to assist you in creating your own online course.
Thinkific
As one of the reliable online course platforms, Thinkific provides a wealth of how-to information (articles and videos) covering every feature.
For its paying plan members, Thinkific now provides a premium online training program as well as weekly live training and other special activities to teach.
Thinkific, like Kajabi, has a very active Facebook community for its users.
The Facebook Groups are great for interacting with other course makers, answering questions, and getting input or suggestions on something related to creating online courses or using the platform.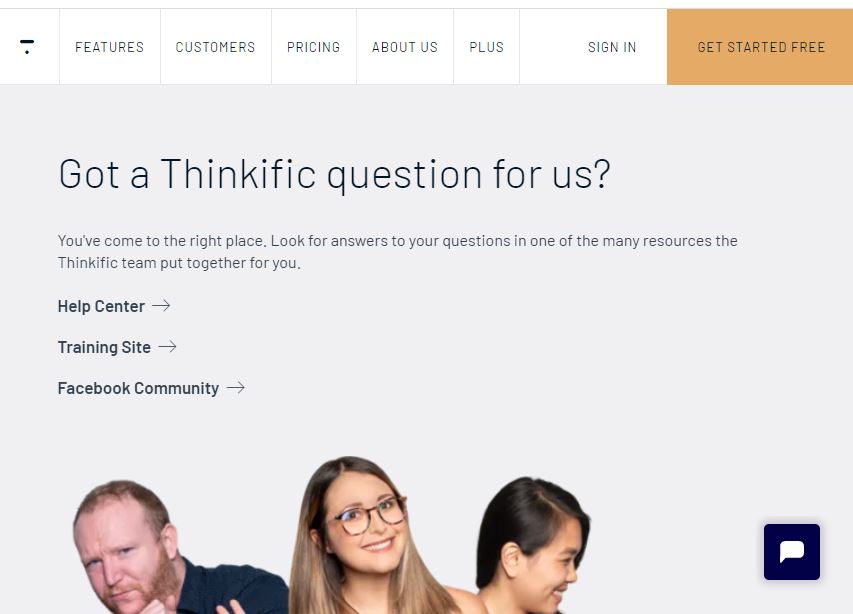 Thinkific has one major flaw: it does not provide any sort of chat support.
Kajabi, on the other hand, provides live chat assistance 24 hours a day, seven days a week. And believe me when I say that this is a valuable function.
Since Thinkific's main service channel is email, which is available Monday through Friday from 9 a.m. to 5 p.m. PST.
Whether you request assistance over the weekend or in a separate time zone, there might be a substantial pause in receiving assistance.
Furthermore, not everyone enjoys exchanging emails back and forth.
Winner
Aside from the fact that Kajabi offers 24/7 customer support which Thinkific doesn't, there's another spectacular support Kajabi gives to its customers.
The platform offers a Hero rewards program called "Kajabi Hero".
This program is geared toward motivating online course creators as they progress.
As a result, when they reach those sales milestones on the Kajabi platform, they get access to goodies and unique rewards.
It's obvious that Kajbai once again makes Thinkific bow when it comes to exceptional customer support.
6. Pricing
Despite the fact that we have discussed a lot in this article, one of the most significant aspects of making a decision is cost.
It's apparent that the platforms are indeed worthy to be on the list of the best online course platforms out there.
However, this comparison will not be complete until will discuss the price you will have to pay for all these excellent features Kajabi and Thinkific offers.
Kajabi
Kajabi pricing functions in a unique way. It has three pricing options, all of which have 0% processing fees.
The Basic Plan is the cheapest rate, and it costs $149 a month. You will have up to 1,000 participating users on the Basic Plan, and you can build up to three brands and sales pipelines.
The most common package on Kajabi is their Growth package. You will have up to 15 brands, 15 pipelines, and 10,000 active members for $199 a month.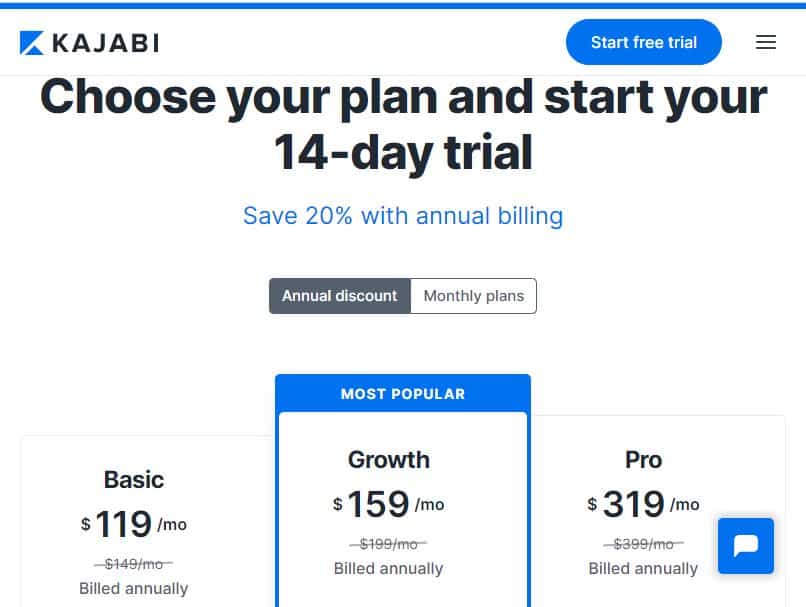 The Growth Plan gives you the freedom to create more value for your customers.
It allows you to create a larger number of products and pipelines, and lets you add more members.
The Pro Plan ($399/month) is the top-rated, and with that amount, you can get up to three separate websites and expand your product and pipeline limits even more.
Kajabi does not provide a free account, but they do have a 14-day preview. However, as part of their 28-day "Kajabi Hero" Challenge, you can double your trial period.
Thinkific
Unlike Kajabi, Thinkific offers a free plan, so that you get to try and familiarize yourself with the platform.
This is really a selling point for Thinkific.
You will have enough time to experience the platform and decide if it is worth your money.
Next after the free plan is the BASIC package.
Thinkific basic plan costs $49 per month, while the PRO plan costs $99 per month.
With the number of features you get to use and the low cost, the PRO plan is the most common.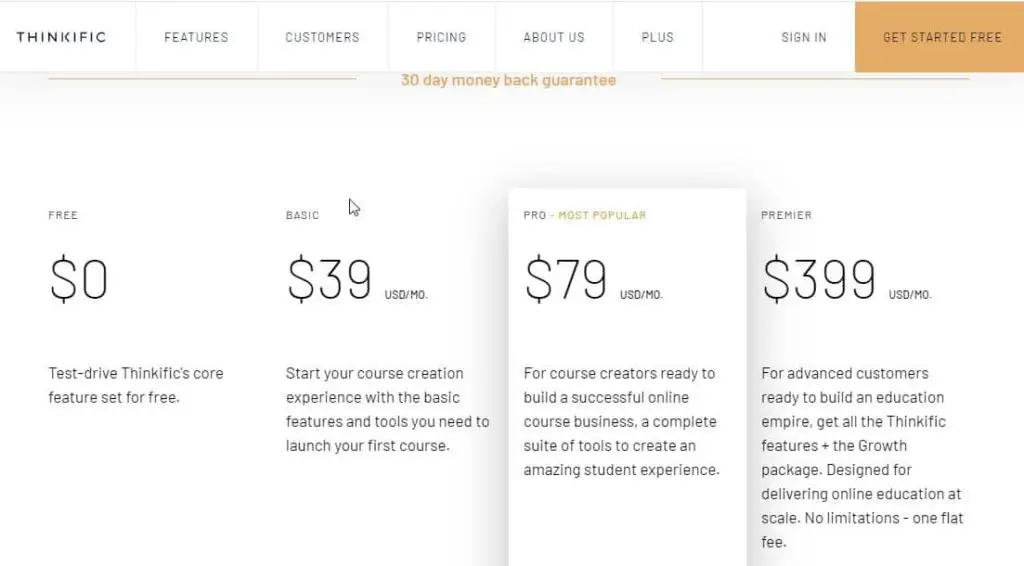 On Thinkific, the most expensive package is the PREMIER plan, which costs $499 a month.
Apart from the four major plans, Thinkific also has a Growth Package add-on for their PRO plan that allows you access to some of the services that are normally only available on the PREMIER plan.
Any student with active participation in the Growth Package pays an extra $0.01 (the first 100 are free).
There are no transaction costs on all of their plans.
Plus, all paid plans allow you to have an unlimited number of courses and students.
As a result, one can say Thinkific is moderately priced.
Winner
You might claim that Thinkific is much less costly than Kajabi if you only compare the prices of different levels.
Kajabi's starting price is high, but Thinkific's pricing seems to be more beginner-friendly.
Also, by using the free plan Thinkific offer, you get to enjoy the platform and know how it works at no cost.
Therefore, Thinkific is the winner in this section. It offers great features, and at the same time, it's cost-effective.
FAQs
Are the two online course platforms accredited?
No. None of the online course platforms is accredited by the Distance Education Association (DEA). They are not recognized educational entities.
Though the lessons are taught by experts with real-world expertise, the majority of them have certificates of completion.
Certificates of completion, on the other hand, are just an excellent way to develop new skills and boost your resume.
Kajabi offers a 30-day money-back guarantee, what about Thinkific?
Even with the free plan offer, a 30-day money-back guarantee is also available on Thinkific.
This gives you the opportunity to test the service and ensure that it is suitable for your needs.
Simply call them and offer a refund within 30 days if you are unhappy with their services.
Do Kajabi and Thinkific allows users to sell a physical product?
In addition to the course materials hosted on the platform, Kajabi can be used to market physical goods.
However, Thinkific doesn't support users selling physical products unless it's part of the materials of their online course.
Physical goods have one of the highest average order values, so selling them if you choose to use Kajabi has a lot of potential.
Are Kajabi and Thinkific the best online course platforms?
No, but Kajabi and Thinkific are one of the best online course platforms on the market.
Whether you're creating content to help generate more leads, sell more products, or train your team – Kajabi and Thinkific offer every tool and training you need to create a successful online program.
Which of the online course platforms allows third-party integrations most?
Both Kajabi and Thinkific make it simple to connect to analytics and monitoring tools like Facebook Pixel, Google Analytics, and Segment.
Other marketing tools (e.g., Deadline Funnel, Convertbox, etc.) that only require a script to be posted on the website can also be integrated.
Kajabi combines natively with a number of third-party email marketing platforms, including ConvertKit, MailChimp, Aweber, Active Campaign, and Drip.
MailChimp, ConvertKit, Aweber, ActiveCampaign, Constant Contact, and Infusionsoft are among the email marketing integrations included in Thinkific.
Overall Winner
I want to believe that you are now in a better place to choose the right platform for your online courses or membership business.
No doubt, Kajabi, and Thinkific are two of the few reliable and popular online course platforms.
But it's important you define your online course goals and objective first. This will help you to choose the right platform for your business.
Remember, the fact that a platform is the best doesn't necessarily mean it will meet all your business needs.
However, following this comprehensive comparison, Kajabi comes out on top and therefore declared the overall winner.