Yes, Udemy is worth it. The platform is changing the way that people learn. With over 40 million students and 100,000 courses, Udemy is the world's largest marketplace for online education and learning.
This is more than just a multi-media learning tool. The platform connects people together to learn from one another.
It gives anyone with a creative idea, or specialized knowledge, the tools to build an online course and share it with the world.
Please read through the Q&A on Udemy below, to find out whether it will be a worthwhile purchase.
What is Udemy?

Udemy is an online learning marketplace with the world's largest selection of online courses.
It works by providing tools for instructors to create courses, and an online classroom for students to learn.
The platform empowers instructors and students through personalized content delivery and interactive learning.
It also offers instructor certification for experts who build courses on Udemy and want to become certified instructors.
There is enough for everybody on Udemy. Its mission is to empower people of all backgrounds to pursue their goals.
Its course creation tool is one of the most powerful, feature-rich products in the instructional content publishing industry.
Teach more effectively with resources like recordings, transcripts, quizzes, evaluations, storylines, and web apps that target a variety of student devices.
It is a revolutionary teaching and learning platform that helps anyone learn and teach online.
Anyone can learn skills to advance their careers or teach their passions. Udemy is an educational platform for all.
Who is Udemy for?
Udemy was created with a simple purpose, to help you learn and achieve your goals. No matter who you are, Udemy has the perfect course for you.
Those looking to launch a new career will find courses that guide them through every step of the process, from developing in-demand skills to getting hired.
Meanwhile, those looking to change careers can use their courses and learning programs to develop new skills.
They can then advance their career and pursue their passions.
If you are passionate about learning, growing, and contributing to the global community (and who isn't?), then Udemy is for you.
You will find something to learn regardless of your culture, age, or profession. Even if you're a beginner or an expert, there's something for everyone.
Are you looking to create and sell a profitable online course?
Udemy is also for people looking to create, market, sell and monetize their online courses.
The platform offers the tools you need for online course creation.
It has over 40,000 instructors in a variety of subject areas including technical skills, business skills, language learning, and much more.
Whether you're an expert instructor, an experienced teacher, or even a student, you can easily create and monetize your course.
Is Udemy legit?
Yes, the platform is legit. Udemy sells courses online that students can take for a variety of reasons. Most classes are structured as online courses, with lectures and exercises.
You obtain a certificate for each course taken. The certificates issued by Udemy cite the student's name and the number of hours spent studying.
However, they do not resemble formal credentials. Students may use them for personal or educational purposes, including resumes and LinkedIn profiles.
It's a legitimate platform where you can learn from world-class experts.
Is Udemy accredited?
No, it is not recognized as an accredited institution.
Well, the courses are taught by experts with real-world experience and most classes provide certificates of completion.
However, Udemy certificate courses are only a great way to learn new skills and improve your résumé.
Most of its courses are self-paced and do not offer academic credit.
Even though the certificates are not accredited, Udemy courses are extremely valuable.
For those who don't mind spending a few bucks on online training, the platform is definitely a great choice.
Even if you have worked in an industry for many years, there is no harm in learning from the experts & masters.
You could always learn a thing or two.
Employers in a wide range of industries recognize the certificates as a solid indicator that an applicant has the necessary skills to be successful in a job and worth their time.
What kind of courses are on Udemy?
All of the courses on Udemy are taught by experts in their fields.
They are not cookie-cutter lessons designed by an algorithm, but actual courses created by teachers.
Everything is organized into skill levels so that you can easily find courses that match your current skill level.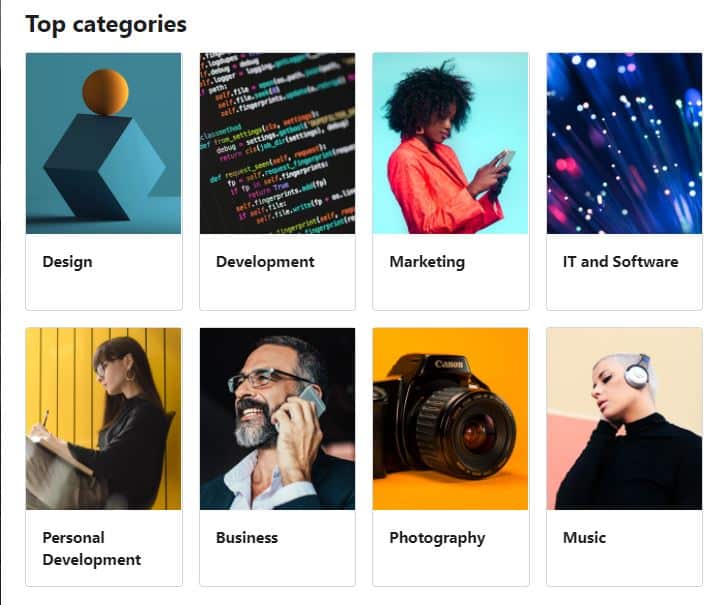 Udemy is a place where you can learn and study just about any subject or topic.
Some of the categories on Udemy include:
Business
Programming
Personal Development
Marketing, Design
Photography and Video
Music & Audio Production
Health & fitness
Data science
Digital Marketing
Practical Leadership Skills
Photography
Parapsychology
Yoga
And much more
You can browse its library of over 100,000 courses created by expert instructors in the world's most relevant topics.
So there is plenty to choose from.
If you're curious about learning something new, there's probably something on Udemy for you
What about the Udemy money-back guarantee?
The Udemy money-back guarantee demonstrates their confidence in the high standard of the platform's courses.
You may find it easier to learn by various methods, especially new technologies that are constantly being introduced, from time to time.
That is why they've developed this policy to assist you in having the best learning experience possible.
Udemy's 30-day money-back policy is a failsafe that encourages you to make sure the class is right for you before enrolling. 
When you are within the first thirty days of the course, you can still seek a refund.
This is one of the reasons many people consider it one of the safe and most reliable e-learning platforms.
You can never go wrong with Udemy.
Is Udemy worth it as a place to learn?
Yes, Udemy is a great place to learn. You can learn from experts, teachers, and peers.
There are thousands of courses available. Courses are almost always on sale or you can get a discount with their coupons.
If you have ever wanted to gain any skill or boost your resume, now is the time. The deals on Udemy are amazing.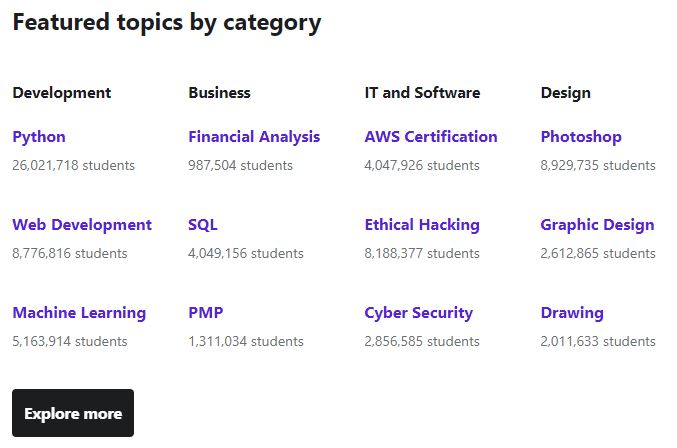 Anyone can take any course on the platform. The price tag associated with the courses is for the certificate at the end of each course.
This gives you an additional sense of completing it besides the satisfaction from learning new things.
Udemy teaches the professional techniques which are lacking today in most schools.
Anything and everything is available to learn on Udemy. I've learned more from Udemy than any other education channel.
It allows a very high level of mastery for a low cost compared to traditional, classroom-style learning.
Do you want to learn how to code, get your dream job, or simply pick up a new hobby?
How much does Udemy cost?
Udemy courses vary in price, with some being only a few dollars while others can cost hundreds.
However, keep your eyes peeled because Udemy frequently has coupon codes and deals available for courses, as well as sales on their social media platforms.
The majority of Udemy's video courses cost between $20 and $200.
But you only need to pay for any course of your choice once. Unlike some other e-learning platforms, Udemy doesn't charge monthly subscriptions.
Whatever course package you purchase is yours for life. You can download the materials and keep them for future purposes. Also, there are a bunch of quality free courses available on the platform.
Are the courses really quality?
Yes. Udemy course content is provided by top instructors in their fields.
All courses are moderated and monitored for quality before being published on the platform.
The platform has built-in tools to make sure that all of its members get what they deserve, and you will get your money's worth.
What you can find here is practically the same content (or better) you would buy on any other educational platform.
It's very interactive and nicely structured.
Each Udemy course has been reviewed by a panel of industry peers and Udemy professors before being made available to the public.
Most of the instructors are professional teachers; well-versed in their respective fields.
Therefore, you can rest assured you're getting quality content when you purchase a course.
Is Udemy worth it for selling courses?
Yes, Udemy is one of the best sites to sell online courses. It is worth it because it's a great way to get your courses in front of more people.
It is more suitable for passive sales, and it also provides great tools to market your courses.
Udemy has excellent promo tools that can greatly help increase the number of student sign-ups.
Instructors can make anywhere from $0 – $100,000+ per year by selling their courses on the platform.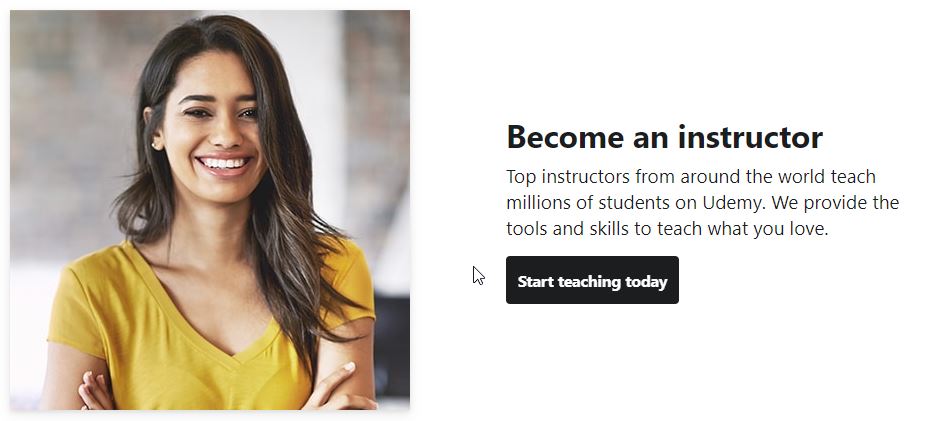 There is a huge variety of course topics you can create a course on.
If you're willing to put in the work, you have a great chance at success and making some extra money as an instructor.
Don't know where or how to start?
Read my comprehensive guide on creating and selling online courses.
Or perhaps you're already in the business and looking to boost your online course engagement.
You can also learn powerful tips to increase your course engagement.
Is Udemy really better than other platforms?
Udemy is different. It offers a huge selection of high-quality courses taught by expert instructors for just about any skill you want to learn.
With over 100,000 courses and 40 million students, Udemy helps learners find the learning style that works for them.
This is where lifelong learners go to find the best online courses on the web.
The platform strives to make learning accessible by providing students with structured content that can be accessed from any internet-enabled device.
Classes span across a multitude of categories, ranging from the arts to business.
Looking for an e-learning platform that has it all?
Join the world's largest community of accessible, affordable, and engaging education. Join Udemy. The interface is user-friendly and the customer service is great.
What are the pros and cons of the platform?
Udemy is one of the reputable online learning platforms for various professionals.
It offers different courses like fashion courses, digital marketing, photography courses, and much more.
The learners can take the classes anytime or anywhere as they can attend them from any corner of the world.
However, there are also certain cons to Udemy that you need to know before joining.
Here are the pros and cons of Udemy:
Pros
Over 100, 000 courses to choose from
One-of-a-kind classes developed by experts
There are some fantastic and heavy discounts available
Offers 30-days money-back guarantee
Your classes will be available to you for the rest of your life
Excellent for corporate preparation
Has some free courses
Offers certificate at the end of every course taken
Possibility of interacting with the instructors or coaches
Perfect place for those willing to share their experience
Cons
Udemy is not recognized as an accredited institution
Offers no academic credits
Lack of ownership and high commissions charged by Udemy to course creators
Are there alternatives to Udemy?
Yes, there are alternatives. Udemy is not the only destination you have to look at for online learning. However, none of them are as large or have such a comprehensive range of courses.
Alternative e-learning platform to Udemy includes:
Ensure you do your research before deciding to use any of these platforms. What's perfect for one might not suit the needs of the other.
Conclusion
Udemy is one of the most reliable online course platforms in the world.
Udemy helps you learn and keep your skills fresh by searching the world for the best experts, then connecting them to you with just one click.
With thousands of courses to choose from you'll always find something interesting.
Whether you're looking for video tutorials or written lessons you'll find well-structured content presented by expert instructors.
It makes it easy to learn from expert teachers and help you grow your skills and change your life for the better.
You can start with some free courses to see what you love.
Or take advantage of the thousands of affordable, high-quality courses taught by industry experts and professionals.
Finally, here's a complete Kajabi review I will recommend you check out. Kajabi is a good alternative to Udemy.
I hope you found this post helpful. Thanks for reading.