Corporations contribute immensely to every nation's economy. They are large companies or organizations with various departments and branches in different regions. Being an employee of such establishments is what it means to have a corporate job.
There are different types of corporate jobs. I will be discussing this and the various benefits and challenges associated with such roles.
At the end of this guide, you should be able to decide if a corporate job is right for you and the best department for you.
Types of Corporate Jobs
Corporate jobs are almost limitless. They range from executive to general positions.
1. Corporate executives
Corporate executives represent the highest level of employees in an organization. They are also called C-level employees because the word "Chief" often begins the position.
The various executive position every establishment should have and you can apply for (if qualified) includes:
Chief Executive Officer (CEO)
Chief Financial Officer (CFO)
Chief Accounting Officer (CAO)
Chief Marketing Officer (CMO)
Chief Operating Officer (COO
Chief Information Security Officer (CISO)
Chief Procurement Officer (CPO)
Chief Sustainability Officer (CSO)
Chief Technology Officer (CTO)
Chief Information Officer (CIO)
2. Human resources
The human resource department is filled with professionals responsible for hiring or recruiting and the welfare of employees. In other words, they handle tasks such as interviews and training of employees.
They also plan and process a company's administrative duties, salaries, and additional benefits. Roles under this department can take the following names:
Human Resource Manager
Human Resource Assistant
Human Resource Specialist
Recruiter
Employment Specialist
Director of Employee Experience
3. Marketing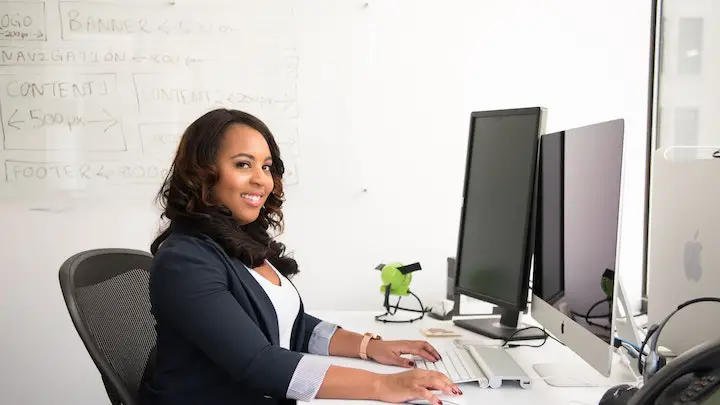 Marketing professionals are responsible for planning and implementing marketing strategies and advertising campaigns. To do this, they evaluate the goals of the company and design the best plan to increase traffic and convert leads.
Marketing roles are numerous. Some of the popular ones include:
Marketing Specialist
Digital Marketer
Product Manager
Advertising Coordinator
Copywriter or Content Writer
Public Relations Manager
Social Media Manager
Search Engine Optimization Manager
Brand Manager
Email Marketing Specialist
4. Sales
The sales department works hand-in-hand with the marketing department. Their role involves leveraging data from the marketing department to ensure the company keeps selling. 
Sales roles can take any of these forms:
Sales Manager
Customer Success Manager
Regional Sales Manager
On-field Sales Representative
Inside Sales Representative
Account Executive
Account Manager
Director of Sales
Vice president of sales
Sales Engineer
5. Information technology and support
Members of the information technology (IT) and support team are responsible for troubleshooting software and ensuring the smooth flow of everyday business.
They do this by planning when to change or maintain tech equipment and also provide updates to employees about system updates.
Roles in this department usually include:
Support Specialist
Computer Programmer
Web Developer
IT Technician
6. Finance
This department is filled with various professionals responsible for bookkeeping operations and tracking income and expenditures, for a company. Finance professionals help organizations plan and manage their funds and also watch out for investment opportunities.
They measure and report compliance to executives, clearly revealing the financial state of a company. Roles in this section include:
Accountant
Auditor
Bookkeeper
Financial Analyst
Controller
Investment Associate
Planning Analyst
Strategy Analyst
Pros & Cons of a Corporate Job
Pros
1. Stratified management structure
As you already saw in the "types of corporate jobs" section, most corporations follow a stratified system. This means there is a division of labor and an effective work process. 
2. Corporate jobs come with good benefits
Working for a renowned company usually means your job is secured, access to a very good salary, active bonuses, retirement bonuses, and opportunities to grow your career, and earn promotions. 
This and other benefits are what you will enjoy when you land a corporate job.
3. No position is irrelevant
While executive and senior-level positions may enjoy better pay and access to benefits you cannot have yet, corporate systems are designed to make every role vital. These organizations are like a puzzle, every piece must fit for profit to be made.
This is a major reason why most departments have leaders and there is a need to evaluate everyone periodically.
4. Teamwork is important in any corporate environment
Similar to the previous point, working as a team is also crucial to a corporation. Teamwork isn't just about every team member working together to achieve a goal.
Emphasis should be on every department focusing on the company's primary goals and working towards them. It will be bad for business if the marketing and sales department of an organization are not united.
Cons
1. Corporate jobs can be competitive
Getting a corporate job can be competitive. This is because these companies are very famous and when they make recruitment announcements, every qualified personnel applies.
Your resume has to stand out and you must pass all the stages of recruitment to become an employee. This can be very stressful especially if you don't get selected eventually.
2. Requires certain soft skills
Nowadays, you need soft skills like project management, communication, and analytical skills to stand out during a recruitment process. 
3. Interview process is usually lengthy
You may have to participate in a series of aptitude and oral interviews before you land any corporate position. Proper research will prevent too many surprises and improve your chances of landing such a role.
4. Corporate jobs are often in large cities
Corporations are not just located anywhere. They are cited in large cities with huge populations. While it is possible to work remotely in some organizations, it is best to relocate to cities if you truly need a corporate job.
FAQs
Is working in a corporation good?
Working in a corporate company is a good choice for individuals looking to gather experience in a field.
However, if you feel a corporate job will hinder your creativity, focus on being a sole proprietor.
How long should you stay at a corporate job?
If your organization is great, you can stay as long as you want and leave when you feel it is time for you to advance or start something.
What is a corporate job like?
A corporate job can be very exciting and stressful.
The fact that most corporations operate in a fast-paced work environment has its advantages and disadvantages. 
Conclusion
Corporate jobs generally offer exciting experiences. While they can be very competitive and intense, your experience within such organizations is capable of launching your career into greatness for life. 
I hope you found this guide helpful. Perhaps you would like to know about how to become a better employee, these are unique skills you need to impress your boss.
Thanks for reading.