If you're reading this article, you're most likely asking if economics is hard or not. To answer your question correctly, we need to examine what economics really entails.
Economics is a social science that deals with human behavior and the economy at large. But even though it is a social science, it involves high-level math and statistics.
It also involves interpreting real-life problems through graphical illustrations. If you don't have the affinity and aptitude for these, economics would be really challenging for you.
Therefore, the topic is more of a matter of your interest and strength. That said, let us examine the reasons many students think economics is hard, how you can excel in it, and more.
What is economics?
Economics is the study of human behavior in relation to the production, distribution, and consumption of goods and services as well as the factors that affect economic growth in a country.
The aspect of economics that studies how an individual, a group, or a firm uses its wealth is microeconomics. On the other hand, macroeconomics deals with issues such as unemployment, inflation, international trade, budget, etc.
As a discipline, it combines mathematical and statistical techniques to solve problems. It also involves psychology, sociology, politics, and history.
Why is economics so difficult?
Here are some of the reasons why students dread economics and believe that it is so hard:
1. It involves a lot of mathematics and statistics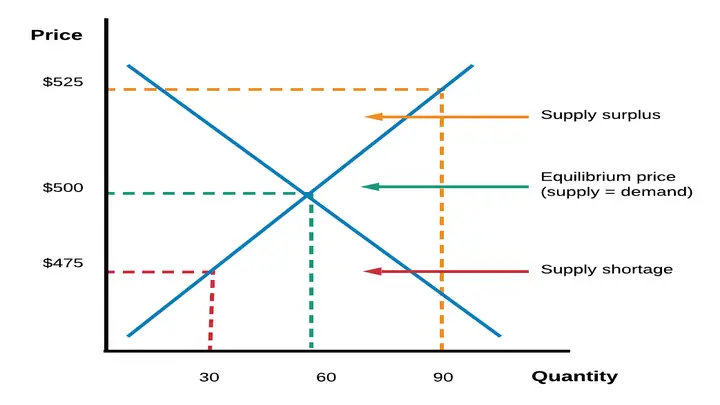 One of the major reasons why students say economics is hard is because it involves a lot of mathematical concepts. Basic high school economics would include statistics, graphical analysis, and simple algebra.
As you progress in college or university, you'd come across econometrics which uses integral calculus, and many advanced electives which involve multivariable calculus.
Post-graduate and Ph.D. programs would require that you understand advanced calculus, linear algebra, differential equations, and many technical mathematics topics.
However, economics doesn't involve as much math as physics and engineering majors. It only uses mathematical and statistical concepts to analyze cases and make decisions.
2. Economics involves many confusing concepts
Economics involves a lot of concepts that you need to learn and understand. You need to understand concepts like choice, opportunity cost, scarcity, demand, and supply, diminishing returns, and more.
While these words are English words, econ has unique definitions for these concepts which can be confusing. For instance, opportunity cost is what you have to forgo to acquire a good or service.
If you're someone who doesn't grasp easily, it may be really difficult to understand what that means. Economics is also highly based on assumptions from which it draws inferences.
As a student, you will need to be comfortable with thinking critically to make decisions based on these hypotheses. If you're not interested in logic and studying the relationship between different variables, then economics will be hard for you.
3. It builds on existing knowledge
Economics requires that you understand foundational concepts as a prerequisite for further studies.
It may be difficult to understand complex topics if you don't understand basic concepts of choice, opportunity cost, demand, supply, scarcity, etc.
Since it involves math, you will also need to understand basic algebra before you're able to solve differentiation and calculus.
How to pass Economics
You may be wondering since econ is so difficult, is it possible to pass it? Below are things you can do to be successful in learning economics:
1. Read to understand
One of the most helpful habits for succeeding in economics is reading to understand. Instead of reading to memorize, try to relate each concept to real-life situations.
As you read, also note the major points in a notepad and try to understand the relationship between each term.
Don't forget to start with the objectives and introduction of the topic. This will make you aware of what to expect and what you're expected to know after studying.
In case there are mathematical problems or graphs, carefully relate them with the topic, understand how to interpret them, and try solving them without looking at your note or textbook.
2. Attend all lectures and classes
Don't assume you can understand economics all by yourself. Economics is complex and you will need the help of your instructor or lecturer to understand most concepts.
It builds on existing knowledge, so missing one class can affect your ability to understand subsequent lessons.
3. Always do your assignments
Doing your assignment gives you the opportunity to learn, practice, and demonstrate that you understand what you are taught. Your instructor or lecturer will most likely not cover all you need to know in class.
Through your assignments, you will be able to note things you really don't understand and ask questions regarding them later.
4. Build a daily reading habit
To gain an understanding of economics, it is best that you build a daily study habit. You could create a study schedule to keep your activities in check.
By doing this, it will be easy to master every lesson as they come. You wouldn't find it too difficult to relate new concepts with old ones and you will be able to comprehend faster.
5. Read ahead of classes
Since the syllabus and curriculum are always available for students, it benefits you to learn topics ahead of class.
This way you can arrive at classes with a basic knowledge of the topic, hasten your understanding, and be ready with relevant questions.
By participating actively in class, you can easily recollect what you learn during exams. More so, it puts you in your lecturer's good book.
Why should you study economics?
There are several reasons to study economics. One is that it inculcates in you critical thinking skills and proficiency in decision making which you can apply to whatever you do in life.
Secondly, a degree in economics qualifies you to work in business, finance, administrative, and political sectors. You can work as an economist, investment analyst, policy analyst, market research analyst, business administrator, and more.
In addition, it helps one to understand how humans utilize resources to satisfy their needs and wants. You also learn how the economy works and the effects of economic decisions on the growth of a nation and its people.
Requirements for studying economics
The requirement for studying economics varies across different schools, however, most colleges or universities require that candidates have a good A-level math grade.
Although A-level economics isn't a compulsory requirement, doing it in high school would really help you understand basic concepts before college.
Business, statistics, geography, politics, and history are other subjects that can help facilitate your acceptance into econ majors.
FAQs
Is economics harder than finance?
Yes.
While finance involves basic mathematics like addition and subtraction, econ involves advanced math like algebra and calculus.
Is economics harder than science?
No.
Economics isn't as hard as pure sciences like physics and chemistry. These sciences involve more complex math and coursework.
Is economics harder than math?
No.
Math stands out as one of the most challenging majors. Math is a highly abstract subject with tough concepts and ideas compared to econ.
Is economics harder than engineering?
No.
Engineering is much more complex and challenging than economics. To succeed in engineering, you need a better math and science background.
How many years does it take to study economics?
A bachelor's degree in econ takes four years to complete.
Final Thoughts
Economics is an interesting field but it can be as hard and strenuous as math, engineering, and many other science-related disciplines. But with determination, focus, and good study habits, you can definitely do well in it.
However, it is important to consider your interest in math and statistics before considering a major or degree in econ. If you're not sure what you're interested in, you should read the article on how to know your aptitude to identify your strengths and weaknesses.
If you're already taking economics in school, you should see it as an opportunity to learn new things and gain an understanding of how humans and the economy work. This can make learning fun, enjoyable, and better.
Don't forget to read the article on how to learn math better in order to sharpen your math skills.
I hope this article helped. Thanks for reading.