Are you considering applying for a communication major but unsure if it is a promising one with career prospects? This article is for you.
Communication majors have an array of exciting jobs open to them. You can be an excellent fit for a media, marketing, PR, or advertising agency with a communications degree.
You can also work as a journalist, reporter, newscaster, editor, presenter, or even creatively apply your skills in different fields. So, yes, communication is a good major.
In this article, you will learn about what you can do with a degree in communication and the benefits you can enjoy, among other things.
What is a communication major?
A communications major is an academic discipline that teaches students human interaction and behavioral processes.
The course teaches students to communicate effectively in interpersonal relationships, social interactions, and diverse cultures.
Graduates of this major are known to be skilled in understanding why people act as they do and in building excellent interpersonal relationships.
Additionally, they are great at listening, showing empathy, and strongly communicating their ideas.
What can you do with a degree in communication?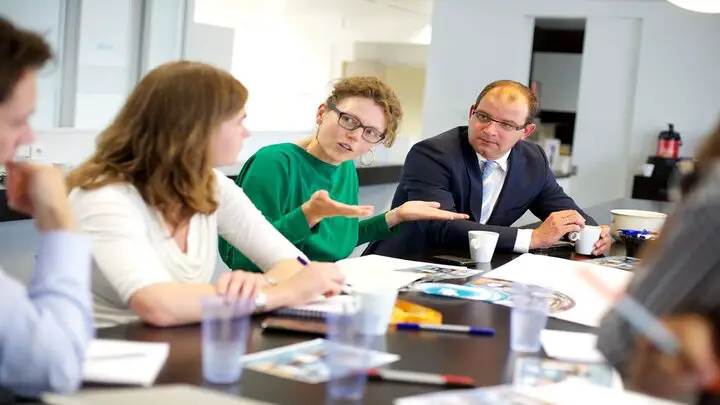 There are many ways you can creatively apply your skills to jobs. Some fields you can work in include:
1. Business and marketing
The role of communication in business cannot be overemphasized. Salespeople, for instance, need excellent communication skills for closing sales with clients.
With such skills, businesses can win clients and investors and drastically increase their sales. Oral communication and presentation skills are vital for winning proposals and business deals.
2.  Public relations and advertising 
Advertising and public relations go hand in hand. Public relation is all about strategic communication that aims to build a mutually beneficial relationship between companies and the public.
On the other hand, advertising is a combination of strategies to draw the public's attention to a product or service. As a communications expert, you can fit perfectly into a PR team and help companies maintain excellent relationships with the public through your expertise.
Your excellent communication skills will also effectively craft great stories to persuade a product or service.
3. Human resources management
Communication is a significant factor in human resources management. HR managers must be able to inform employees about the state of an organization well.
The whole process of recruiting and onboarding new staff requires solid communication skills. HR managers must communicate job expectations and benefits to staff to ensure work is done appropriately.
Also, since HR managers are like a bridge that connects top management with employees, they need excellent comm skills for an accurate and free flow of information from top to bottom.
This helps management and employees make informed decisions to grow the organization.
4. Mass media jobs
Mass media is the diverse array of technologies used to reach a large audience through mass communication. The whole essence of mass media is to communicate.
As such, you can work in virtually any field of mass media with this degree. With your adept writing skills, you can take on a job as a journalist, writing for newspapers, magazines, or news websites or preparing news to be broadcast.
You can also work as a news reporter and present news on TV, radio, or the Internet.
As an excellent writer, you can become an editor and proofreader and get paid to help authors and writers edit their work.
6. Careers in the educational field
The difference between a great and an average teacher is how they can pass on their message and impact knowledge in students.
Those who study this major in college or university go through the rudiments of effective human relations. As such, they can teach in ways that help students better understand.
However, you will need a teaching qualification to be employed in a school. Combining this degree with a teaching qualification will make you stand out among your colleagues.
Benefits of studying communication major
You can work in diverse fields with this major. Here are a few benefits that come with this major:
1. Employers want workers with strong communication skills
Employers are looking for individuals who can demonstrate strong communication skills in the workplace.
By enrolling in a communication major, you will spend years learning how to convey messages and thoughts in the best possible way.
This major teaches students to use text, visuals, and graphics to communicate appealingly.
2. You get practical experiences
Students get to do lots of practical activities in school. The good thing about the field is that its major practical variable is humans, and humans are everywhere.
They may also do field work that involves traveling to mass media companies and cities. This can allow them to meet new people and network with industry experts.
3. High salary potential
According to the U.S. News & World Report, communications experts earn a median salary of $62,340 annually. This proves that professionals in the field are important.
Moreover, as you gain more experience and advance your knowledge in the field, your chances of earning more increase.
4. Growth potential in the field
The communications field is projected to increase employment by 6% in the next decade. This means that more employers and industries are seeing the need for communication experts and their benefits to the organization.
Moreso, you can delve into diverse fields, including sales and marketing, public relations, advertising, writing, and so much more. So, you're not limited to a peculiar field.
Where can you study communication major?
Below are institutions where you can enroll for a communication major and actualize your dream of becoming a specialist:
University of Amsterdam
Arizona State University
University of Southern California
University of Florida
The London School of Economics and Political Science (LSE)
University of Georgia
The University of Texas at Austin
Iowa State University
Stanford University
Michigan State University
FAQs
How much can you earn with a communication degree?
You can earn as much as $48,370 as a news anchor and $71,232 as a communication director.
Is communication major hard?
No.
A communication major is a field that isn't stressful, but that doesn't mean that you wouldn't put in the work to succeed in it.
What courses does a communication major entail?
Some courses you will come across in college or university include an introduction to communications, public speaking, computer-mediated communication, media, mass communication, etc.
Final Thoughts
Studying communication majors can help you play a key role in an organization's growth. You can help the organization sell better with excellent communication skills as a salesperson.
Your communication skills could help companies secure better deals and more clients. Knowing that a communication degree allows you to work across various fields is interesting.
I hope this article helps. Read more engaging articles on LMS Hero.
Thanks for reading.