Some of the easiest IT certifications you can get include CompTIA A+, Cisco Certified Technician (CCT), CompTIA Network+, and CompTIA Security+.
Deciding to follow a career path in information and technology is one of the best decisions you can make. The Bureau of Labor Statistics estimates that in the next 10 years, demand for IT personnel will increase by 13%.
If you feel you have what it takes to excel in the IT industry, then why not take a couple of courses to polish your skills? With adequate experience and relevant certifications, you too can earn a butt-load in this field.
Aside from earning a lot, there are many advantages to getting an IT certification. Some of these include advancement in career, establishing professional credibility, and showcasing your uniqueness in an IT field.
If you're looking for where to get started, in this article are some of the easiest IT certifications you can get to start with.
What is an IT certification?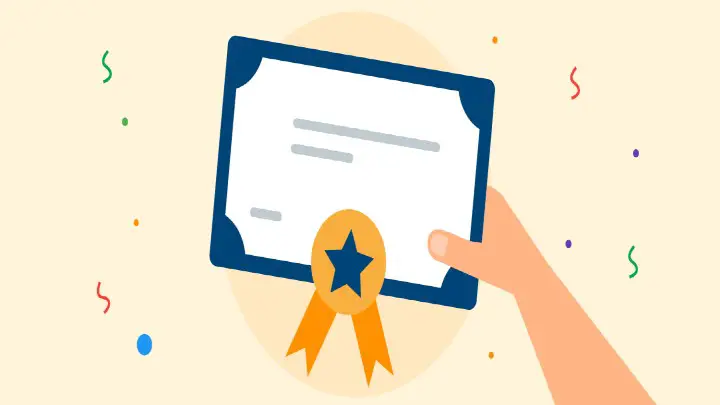 An IT certification is a credential that shows someone has gained relevant skills in a given area. In recent times, certifications have become crucial in the field of information and technology.
While degree programs are still valid, certifications show an employer that the candidate has first-hand experience in that field as well.
Easiest IT certification worth pursuing
In this section, I will list out some of the easiest IT certifications for starting a career.
1. CompTIA A+
For the past 20 years, CompTIA A+ has attained a gold standard for beginning an IT career. Employers consider this certification as a prerequisite when screening for candidates to occupy support positions at service centers.
By getting a CompTIA A+ certificate, you show employers that you have key abilities that they need. These abilities or skills are required for many IT support jobs today.
The following are some examples of IT support jobs you may have an edge with a CompTIA A+ certificate;
Field service technician
Help desk support technician
Desktop support analyst
System support specialist.
Price for getting this certificate: Around $232 per exam.
2. Cisco Certified Technician (CCT)
If you lack extensive networking skills or experience, you can go for the Cisco Certified Technician certification. Cisco is a dominant field in the IT industry, known for producing switches and routers.
By getting this certification, you show employers that you are capable of a number of skills. This includes the ability to diagnose, repair, restore and replace Cisco system components and networking devices.
In order to get this certificate, you will need to take a course supporting Cisco Data Center System Devices (DCTECH) v2.0. This course covers data center networking basics, field repair, and equipment replacement.
You will also learn how to identify Cisco Unified Computing System (UCS) along with component models, accessories cabling, and interfaces. Afterwards, you will be required to take the exam before getting the certification.
Price for the certificate: Around $125 per exam.
3. CompTIA Network+
Another important and easy information technology certification that you can get is CompTIA Network+. This certification verifies your ability in areas like;
Managing network connectivity
Understanding the principles of routing and switching
Securely configuring network hardware components
Configuring newer foundational technologies, such as cloud computing.
With this certificate, you are suitable for various entry-level positions, such as;
Network support engineer
Junior system engineer
Network field technician
Junior network administrator.
Price for the certificate: Around $338 per exam (Certificate will need to be renewed every 3 years).
4. CompTIA Security+
In the IT world, security is more important than ever. Getting a CompTIA Security+ certificate shows that you have the required skill for IT security-related jobs.
This skill is simply the ability to configure systems that are not only secure but also comply with all necessary laws and regulations.
With this certificate, you are suitable for various entry-level positions. Some of which are network, system or security administrator and junior IT auditor.
Price for this certificate: Around $349 per exam.
5. Amazon Web Services (AWS) Cloud Practitioner
Another easy certification that gives you an edge in the IT world is the AWS cloud practitioner certificate. This is because AWS is a well-renowned cloud computing platform globally.
The course will equip you with a variety of skills, such as coding, designing, and cloud architecture. Additionally, you will learn troubleshooting, implementation, migration, and performance testing.
Furthermore, you will build your knowledge of business applications. These applications include; Amazon Alexa, Amazon Chime, and Amazon WorkMail.
Price for this certificate: Around $100.
6. Microsoft Technology Associate (MTA) Certificate
The Microsoft Technology Association Certificate is another easy IT certification you can acquire. With Microsoft holding such an ambiguous presence across the IT world, it's no surprise that they make this list.
The MTA certification scheme covers a number of topics that you can choose from to be certified in. These topics include;
Mobility
JavaScript
Python
HTML
HTML5
CSS
Networking
Operating systems
Windows Server Administration
Security
Databases
Development
All these topics are categorized into three key areas, namely; desktop infrastructure, server infrastructure, and private cloud computing.
Price for this certificate: The price for this certificate varies depending on the area. However, it should cost around $127 per exam.
7. Apple Certified Support Professional (ACSP)
Getting the Apple Certified Support Professional certificate shows that you have a strong understanding of mac OS core functionality. It also shows that you can perform basic troubleshooting and support multiple Mac users.
The exam you will take for this certificate covers a host of Mac-related topics. Ranging from basic questions that involve installation to complex questions on support and troubleshooting tasks.
The good thing about this particular certification is that you can complete the process entirely online. The study material for this exam is accessible on the Apple Training site.
Price for this certificate: Around $65.
FAQs
What is the best IT certification for remote jobs?
One of the best IT certifications for remote jobs is the AWS certified cloud practitioner certificate.
What are the best IT certifications for beginners?
CompTIA A+ and Cisco Certified Technician (CCT).
What are the best non-IT certifications?
Project management certifications, Business analyst certifications, and Supply chain certifications.
What is the quickest IT certification to get?
Apple Certified Support Professional (ACSP), AWS Certified Cloud Practitioner, and Certified ScrumMaster (CSM).
Are IT personnel in demand?
Yes, they are. According to the Bureau of Labor Statistics, the demand for IT personnel is estimated to increase further by 13% in the next 10 years.
Conclusion: Is getting an IT certification worth it?
Yes, it is. The demand for IT personnel is increasing by the day, and getting a certificate in any IT field is a smart choice.
Note that getting an IT certification is in no way a replacement for a traditional degree. However, it does give you some credibility and experience which could help you when applying for jobs.
There are many IT certifications that you can easily acquire at a fair price too, I might add. Getting one will not only help you advance your career but also your earning potential.
I hope you enjoyed reading this article, if you did, you should also see if online course certificates matter.
Thanks for reading.