Being a prospective student is a unique experience. It's when you explore all the possibilities that life offers and have many choices. 
What kind of college should you go to? How can you pursue your majors? What are your career options? The list goes on and on. 
But before making any of those decisions, you must learn as much as possible about the various colleges and universities available to you. 
In this article, I will discuss what it means to be a prospective student. I'll highlight tips to prepare for college and some challenges prospective students may face.
I hope you read this article and find it useful. 
What is a prospective student?
To succeed in any field, students must clearly understand what they are looking for. 
With so many options available today, it can be difficult for students to determine which school or program best fits their needs.
A prospective student is somebody who is considering whether or not to enroll in a specific program, course, or institution. 
They take the first step on a journey that will change their lives. The best way to show prospective students how great a college can be is to let them experience it first-hand. 
That's why there are programs like campus tours and admissions tours. The goal is to make sure every one of the prospective students finds the perfect fit for them.
Prospective student tips to prepare for college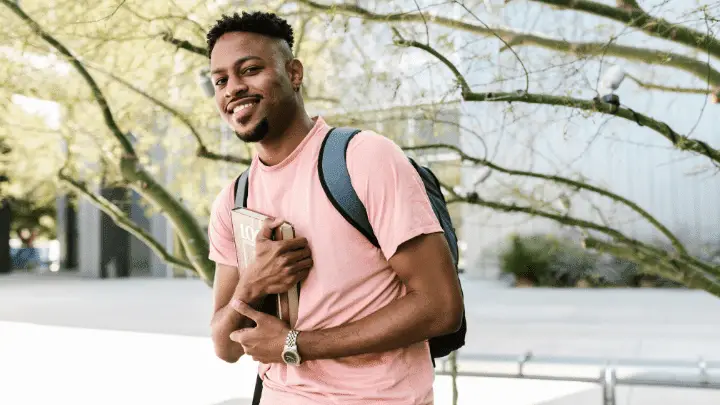 1. Prepare for college by doing your research about schools
For a prospective student, choosing the right college is one of the biggest decisions you will ever make. There are a lot of factors to consider, and it can be hard to know where to start. 
One great way to prepare is to do your research. Many sources of information are available, and you can find what you need using the guide below.
First, try visiting the website of a few colleges that you are interested in. This will allow you to explore the school and its offerings more thoroughly. You learn about the requirements, policies, and guidelines.
Next, read articles or reviews about colleges. These articles will often provide detailed information about a specific school and current students and alumni's insights.
Finally, think about your future. Determine what kind of career you want to pursue and which colleges will give you the best opportunities to achieve that.
2. Visit the school to familiarize yourself with the environment
Choosing a school isn't just about finding the proper education; it's also about finding a place where you'll feel comfortable.
Furthermore, it's about where your unique passions will be nurtured and where you'll feel connected to the environment. 
A campus tour can give you a first-hand look at the kind of environment the school is trying to create. 
The kind of school community and opportunities the school offers are crucial to ensuring you get the best education. A visit will help you decide if a school is right for you.
3. Network with classmates and professors
Building relationships is one of the most important tools a student has. 
Not only can it be beneficial for finding job opportunities, but it can also be a valuable way to learn about different disciplines and meet new friends. 
There are several ways to network effectively. Some of the most popular methods include speaking or shadowing a student in a school you plan to attend and talking to professors. 
Whatever method you choose, make sure that you put in plenty of effort to maximize the potential benefits of networking.
4. Inquire about scholarships and financial aid opportunities 
A scholarship application is a perfect way to get a head start on your college search. By submitting your application early, you'll have more opportunities to find scholarships that fit your unique needs and interests. 
You'll also be able to take advantage of updated information and changes in scholarship criteria. Don't wait until the last minute to find out about financial aid opportunities. 
Early inquiry allows you to find the best options and speaks to the school's commitment to serving diverse students. It also demonstrates your interest in pursuing a degree at this institution. 
Many universities offer scholarships tailored to students' interests, so don't hesitate to ask about these opportunities. You won't regret it.
5. Attend or join as many campus events as possible
There's no better way to get to know a school than by attending its events. You'll meet students from different majors, learn about the campus culture, and get a taste of college life.
Attending as many events as possible is one of the best ways to determine if your school is the right fit for you. 
They also allow you to meet the faculty and staff, tour the campus, and learn about your major study area. 
Furthermore, these events allow you to show your skills and personality in a setting where you will be evaluated. Finally, volunteering and extracurricular activities are suitable for your resume.
6. Affirm your decision with family and friends
It's easy for prospective students to get lost in the shuffle of college applications, SAT preparations, and financial worries. 
But one thing never changes: your family and friends are always there to support you. Putting your trust in someone else can be daunting, but it's worth ensuring you make the right choice. 
By talking to your loved ones, you'll be sure they're comfortable with your decision and have a support system when you need it most. 
Remember: college is an experience that will change your life forever, and it's essential to make the most of it by ensuring everyone is on board with your plans. 
7. Taking care of your mental and physical health is vital to succeeding in college
Mental and physical health are both critical to success in college. To succeed in school, students must have a healthy mind and body. 
Too often, students focus only on their schooling and neglect their health. Chronic stress and an unhealthy lifestyle can lead to many problems.
Some include decreased cognitive function, depression, anxiety, withdrawal symptoms, and disrupted sleep. 
Although it may be difficult to adjust to life in college, doing everything possible to maintain a healthy mind and body will pay dividends later.
What are some of the challenges that prospective students face?
There are many things prospective students face when looking to attend college. Some of these challenges can be related to finances and others to the level of difficulty offered by the school. 
Some students may struggle with choosing the right major or figuring out what type of student they are. 
Additionally, many students are concerned about how much money they will need to spend each year and how they can afford to live on campus.
Whatever the challenge, it is always a good idea for a student to speak with a college advisor to get as much advice and assistance as possible.
FAQs
What is the difference between a prospective student and an applicant?
A prospective student is someone who is considering whether to attend an institution.
An applicant is someone who has already begun the application process but is yet to be given admission.
What is the best way for a student to choose the ideal school?
The best way for a student to choose the ideal school is first to assess his or her unique desires and needs.
The school that can uniquely satisfy those desires will be the best choice. 
What is the best way to improve your chances of being accepted to a university?
Some tips that may help improve your chances include working hard in all your classes, excelling in extracurricular activities, and demonstrating strong personal values and qualities.
Final thoughts 
Prospective students should know the many opportunities available to them.
College is a crucial time for young people to explore their interests, form lifelong relationships, and develop skills that will prepare them for future success. 
With the right choices, prospective students can find the college that best suits their needs and goals.
As a prospective student, you can explore the degree pages to find out which degree is right for you and what you can do with it after you graduate.
It is equally important to read the article that explains what major means in education. It might be just what you need to find your passion.
Lastly, it's also important to note that most colleges require a minimum of a 3.5 GPA. A high GPA can also help you get scholarships and grants. For more information, read the article that sheds more light on if a 3.5 GPA is good.
Thanks for reading.