A graduate degree means more than just a piece of paper, it's an opportunity to gain knowledge and skills to help you succeed.
If you're in college, you're probably thinking about it—and if you're not, maybe you've been toying with going back to school for a graduate degree. 
It's understandable: a graduate degree can open up many opportunities for you and be a gratifying experience.
If you have the funds and the time and are willing to put in the work, then a graduate degree could be the best decision you ever make.
This article will discuss some of the most common graduate degrees available today, what a graduate degree means, and its benefits.
By the time you finish reading this article, I hope you will have all your questions about what it means to get a graduate degree and whether or not one is right for you.
What is a graduate degree?
A graduate degree is a degree you can earn after completing a bachelor's degree. It shows that you have mastered a specific subject or field by completing advanced coursework and research. 
Graduate degrees are offered in many different subjects and can be obtained at the master's, doctorate, or professional levels.
They usually require students to complete courses in their field and write a thesis or dissertation. 
Graduate degrees allow people to further their career goals and prepare them for leadership roles.
They also provide opportunities for specialization that may not be available at undergraduate institutions.
This can mean increased coursework, research opportunities, and a deeper understanding of their subject matter.
Graduate degrees are for people who want to pursue careers in academia or research. However, they're not limited to those fields—anyone with a bachelor's degree can apply for them.
What are the benefits of earning a graduate degree?
1. Higher income
In today's job market, staying current with a graduate degree is more important than ever.
Furthermore, having a graduate degree can be the difference between getting hired and not – primarily if you work in fields like engineering or medicine.
For some people, a graduate degree is just a formality, but it can mean a chance at a higher income for others.
A master's or doctoral degree will open doors for higher education institution jobs and research positions that can improve their earning potential. 
While earning a graduate degree can be expensive and time-consuming, it pays off in the long run with higher income potential. 
2. More opportunities for career advancement
Graduate degrees provide you with more opportunities for career advancement.
Whether you seek a career in education or business, a graduate degree will put you at the forefront of your field and set you apart from those with only bachelor's degrees. 
Additionally, this goes hand in hand with higher pay. Employers will be more willing to pay you top dollar for your skills with a higher degree behind your name.
Take advantage of the world of opportunities available to you with a graduate degree. 
Earn your master's or doctorate and move up in your field. From consulting to teaching and more, a graduate degree will open many doors for you.
3. Gain a professional image
Students are more likely to be hired with a graduate degree. Acquiring a graduate degree is essential in your career development, as it provides a professional image and increases your chances of being hired by employers. 
If you want to work professionally and make sure people see you as an expert in your field, a graduate degree will help you achieve that.
You can also impress employers with the advanced knowledge you have acquired throughout your studies.
While it can appear that a higher degree doesn't matter, it is the opposite. A graduate degree is more formal and professional than a bachelor's degree and can look better on your resume.
4. New skills and knowledge
A graduate degree allows you to enhance your skills, learn new ones and expand your knowledge. You can gain practical experience in your field while gaining critical thinking and research skills. 
A graduate degree is not just about learning new skills and knowledge. It also allows you to reflect on your past experiences while exploring new ones, which can help develop self-knowledge. 
A master's program may be a great place to start.
5. Expand your network of contacts
One of the most incredible benefits of earning a graduate degree is expanding your network of contacts. As an undergrad, you may have only socialized with other students in your major. 
However, as a graduate student, you can broaden your network by joining clubs centered on issues of interest to you.
You can also take classes with a broader range of peers and spend time with people outside your undergrad circle of friends.
Getting a graduate degree will open doors to new opportunities, allowing you to expand your network of contacts and grow professionally.
6. Prepare for leadership roles
A graduate degree is a credential that demonstrates your mastery of the subject and prepares you for leadership roles.
An advanced degree can make you stand out in the job market by providing employers with a new perspective on complex problems. 
If you're committed to pursuing a Ph.D., you will learn how to work with others. Additionally, you will solve complex problems and acquire skills critical to success as a leader in academia or industry.
7. Investment in your future
Investing in your future has never been more critical. With a master's or doctoral degree, you can land a great job in your field and earn more money to enjoy more financial security. 
Having more degree options gives you a better chance of landing your ideal job and achieving financial stability.
You can invest in your future knowing that a degree remains valuable no matter what happens in the job market or the economy.
Types of graduate degrees
If you're considering getting a graduate degree, you'll first want to figure out what degree you want.
There are different degrees, and they all have different purposes and uses. Here are some of the most popular types:
Master's degrees
A Master's degree is an advanced academic degree that typically takes 1-2 years after earning a Bachelor's degree.
You can earn one in almost any subject area, including business administration, education, engineering, nursing, etc. 
A Master's degree can be professional (master's in business administration, master's in information technology, etc.). Or it may be academic (Master of Arts, Master of Science, etc.).
Ph.D. (Doctorate)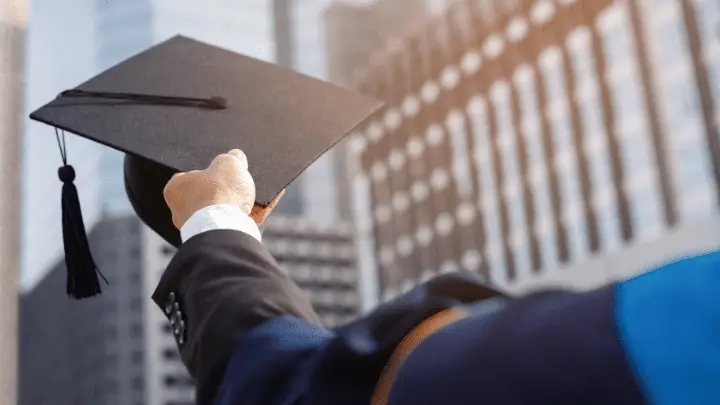 The Doctorate is the highest level of educational attainment in most fields, and it takes at least three years of full-time study after earning your Master's degree.
Most Ph.D. programs require students to write a dissertation for their final exam. This research project can take months or years to complete.
Professional degrees
These degrees focus on specialized training for law, medicine, or teaching careers.
Professional degrees usually take four years or more, depending on how long it takes students to complete their clinical training requirements (if applicable).
Some examples of professional degrees are Juris Doctor, Medical Doctor, etc.
What is the difference between undergraduate and graduate degrees? 
Undergraduate degrees are usually four-year programs that lead to a Bachelor's degree. Depending on the university, this can be called a Bachelor of Arts or a Bachelor of Science. 
The difference between these two types of undergraduate degrees is that the Bachelor of Arts degree covers humanities subjects like literature, history, and philosophy.
In contrast, the Bachelor of Science degree covers more technical subjects like biology, chemistry, and mathematics.
Graduate degrees are more extended programs that require more advanced study than an undergraduate degree. They also tend to require more work experience than an undergraduate degree. 
Graduate degrees can take anywhere from one to five years to complete depending on how many courses are required for each program.
There are different graduate degrees, such as Master's degrees, PhDs, and law degrees.
How to choose your graduate degree
Suppose you're a student looking to get your graduate degree, congratulations. You've made it this far and are definitely on the right path.
But with so many different degrees, how do you know which is right for you? 
Choosing a graduate degree can be daunting; there are so many options, and it's hard to know which one is right. To help you with your decision, here are some tips:
Make sure it's something that interests you. Motivating yourself to study and work hard will be challenging if you don't love the subject matter.
Think about how long it will take to complete it. You might not want to do it if it takes too long or costs too much.
Don't forget about funding. You should ensure that if you are accepted into a program, there is funding available to afford tuition costs.
Make sure the school has a good reputation for the program that interests you most.
Finally, think about where you'll be most comfortable. Do you like being around people or prefer spending time alone? The answer here can help narrow your search and ensure everything feels right before making big decisions. 
Whatever path you choose, remember: it's not just about which degree will make you the most money—it's about which degree will allow you to live a life full of purpose and meaning.
FAQs
Is grad school worth it?
Yes. A grad school will give you the skills and knowledge to confidently pursue a career in your field.
It's an investment in yourself: high-quality education, an opportunity for networking, global exposure, and peer collaboration. 
Is it necessary to complete an undergraduate degree before pursuing a graduate degree?
Yes. Students who wish to pursue a graduate degree, such as a Master's degree or Ph.D., must first complete undergraduate requirements.
In addition, they must meet certain GPA standards throughout their undergraduate education.
How long does it take to get a graduate degree?
The time it takes for a student to earn their graduate degree depends on their individual needs. A master's degree usually takes one to three years, while a doctoral degree can take four to six years.
Final Thoughts 
Graduate degrees are becoming more and more common in many fields of study. It can also open many doors and start you on a new career path.
Now that you have a basic concept of what a graduate degree entails, there are many things you can do to help prepare for the next step in your academic life. 
Join clubs and organizations on campus if you haven't already. Volunteer to get out of your comfort zone and gain meaningful experiences outside the classroom.
Stay organized and manage your time wisely to avoid being stressed by back-to-back deadlines. 
Finally, research graduate programs at universities near you to find your ideal institution.
Immerse yourself in life after college to see what it's like and feel comfortable with the idea before you decide to move on to the next level.
Hopefully, this article has helped you on your journey to becoming a graduate student. You can also learn more about the various levels of education with their examples.
Thanks for reading.