Do you intend to be a flight attendant and wonder if it is possible to work the job part-time?
Securing a flight attendant job as a full-timer seems so tricky that you may wonder if these jobs offer part-time possibilities. 
This article explores the possibilities of working a part-time job as a flight attendant and its benefits. 
What is a flight attendant?
An individual who serves as a customer service representative for travelers aboard airplanes is known as a flight attendant.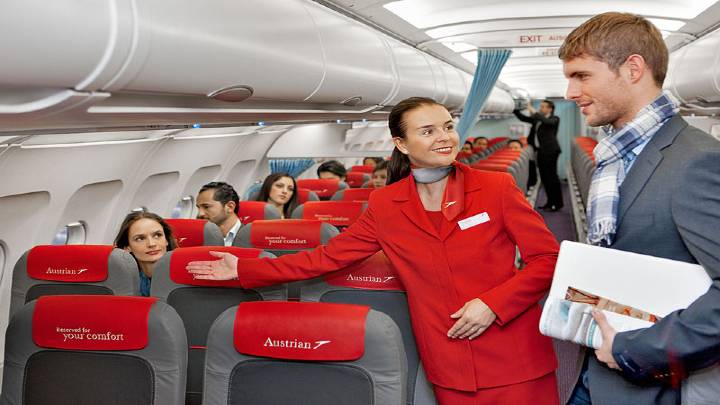 Flight attendants must provide safety instructions, show safety procedures, and answer passengers' questions while traveling.
They can also help travelers find seats and care for their food and drink needs during the flight.
Can you work part-time as a new flight attendant?
Yes, because flight attendants often have flexible schedules, you can work as a part-time employee. Positions as flight attendants can be either full-time or part-time.
How many months of training are required to be a flight attendant? 
The flight attendant training curriculum typically lasts three to six weeks. However, entering one of these flight attendant training programs may take months or even years. 
Flight attendant training is conducted at the airline's training facility. It usually lasts three to six weeks.
Classes typically have between 30 and 100 students. The airline also deals with providing lodging, some food, and spending money.
How much do part-time flight attendants earn? 
In the US, a part-time flight attendant earns an average salary of $48,709 annually. That comes to almost $23.42 per hour, equating to $936 each week or $4,059 per month.
Where can you get part-time flight attendant jobs? 
You can browse the websites of any airline you're interested in working for. To find these positions, note any part-time roles they show as being open. 
While most airlines' jobs are full-time, most airlines also offer part-time employment opportunities. 
You can also use this strategy with several airports, as certain airports may have part-time employment available that handles various airlines. 
Another way is using a search engine or a website that compiles job listings. You may also research more extensively online by looking for part-time airline jobs.
Benefits of being a flight attendant
1. Networking opportunities
Meeting new, intriguing people daily is another fantastic benefit of working as a flight attendant.
As a flight attendant, you often interact with passengers and have the chance to meet people from around the world. These individuals may be business people, athletes, celebrities, or vacationing families.
You may also have time between flights to explore the new location and get to know the locals on some journeys that require overnight stays.
2. Great travel opportunities
As part of their employment, flight attendants get to travel, and during the time in between flights, they may choose to visit new places.
You may have hours or days between flights to visit nearby tourist destinations.
You might have to spend the night elsewhere before the return trip. Crew members are not charged for overnight stays when traveling for work. 
Sometimes there may be extra time for crew members to visit places, but this hotel stay is often for flight attendants to sleep and relax for the return trip.
Additionally, several airlines enable you to accrue extra miles or other rewards. This implies that you might travel for free on the airlines your employer owns even when you are not on the job.
3. Family flight benefits
Your family may be eligible for flight benefits as a flight attendant, depending on the airline.
Some employers offer free flights to parents or kids, although this advantage usually applies to couples and only to journeys taken for personal purposes.
4. Flexible schedule
The schedules of flight attendants are distinctive and flexible. Airlines may limit the hours crew members can work because they want them to be well-rested, so passengers travel safely. 
It's also common for flight attendants to work three days a week. This might be advantageous because it frees up more time for other jobs, hobbies, family, and vacations.
5. Expense reimbursement
Flight attendants sometimes enjoy reimbursements for travel-related charges. These may include the price of lodging, meals, ground transportation, and flights.
Airlines may also pay for additional costs, such as continuing advanced training courses incurred by workers.
Along with offering meals and snacks during flights, several airlines reimburse crew members for meals they purchase while traveling.
6. Health benefits
Most airlines also give their staff excellent health benefits. Flight attendants and their dependents can include health, dental, vision, and life insurance.
7. Retirement plans
A lot of flight attendants get savings or retirement benefits. Employees can use this perk to budget and plan for the future.
8. Compensation
Most flight attendants are paid competitively for their services. Depending on the airline and level of expertise, the average flight attendant earns $36,866 in compensation annually. Other benefit packages also come with payment plans for several airlines. 
How do you become a flight attendant?
1. Meet the qualifications of the airline
Bachelor's degrees in hospitality, communication, tourism, and public relations are particularly effective preparation. At the very least, airline job applicants must also possess a GED or a high school diploma. 
2. Complete the flight attendant training program
When you are hired by an airline, the business will send you to its flight training facility for official training. Expect to get classroom teaching on flight laws, work responsibilities, and corporate operations throughout the three to six weeks you will be there.
3. Certification of proficiency
After completing the training provided by your employer, the airline's director of operations will submit an application to the FAA for your Certificate of Demonstrated Proficiency.
4. Begin your career
After completing your training and receiving your diploma, you can start traveling the world while making a career.
FAQs 
What are the categories of flight attendants?
The various categories of flight attendants include air hosts and hostesses, pursers, and stewards or stewardesses.
Are flight attendant jobs worth it? 
One of the best career choices a person can make is becoming a flight attendant. It's a fulfilling profession that allows access to a way of life most people would adore. It offers excitement, excellent compensation, and interpersonal contact
Are flight attendant jobs hard to get?
Finding employment as a part-time flight attendant is difficult. Hundreds of enthusiastic candidates apply for each job opening, making it quite competitive. This is because the job has great benefits.
Conclusion 
Although it can be tough, finding employment as a part-time flight attendant can lead to a very fulfilling career. Not only do you get access to fantastic employee benefits, but you all get great networking opportunities. 
Also, being a part-time flight attendant gives you a great work-life balance and time to do other important things. 
I hope you found this article helpful. Find out how to mix two part-time jobs while effectively managing your stress. 
Thanks for reading.