Sports management is a good major for those wanting to take charge or oversee sports teams or organizations.
With hard work and commitment, a major in this field can lead to a fulfilling and rewarding career.
Few career paths provide the excitement, satisfaction, and lucrative opportunities that sport management offers. This is because it is a very wonderfully diverse career path.
Before you decide if sport management is a good major for you, let's see the benefits, requirements, salary, and job outlook for a sports manager.
What is sports management as a major?
Sports management is a field that teaches students the skills and concepts centered on finance, management, marketing, and law related to the sports industry. It encompasses various aspects, ranging from accounting to analytics and evaluations.
Getting a major in this field will teach you specifically the essential skills needed and how to apply them in the world of sports. You will also study the laws and ethics related to the world of sports.
Reasons why sports management is a good major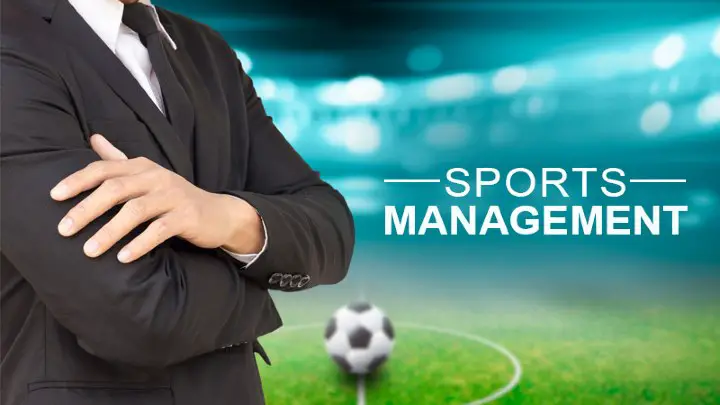 Now that you better understand what sports management is as a major let's see why it is good.
1. It is a steadily growing career path
According to the Bureau of Labor Statistics, the outlook for sport management officials is expected to rise. An impressive 18 percent growth rate is expected between 2020 – 2030.
If you compare this to the average 8 percent for most career paths, it is easy to see this field's perspective.
2. Opportunity to follow your passion
The passion for sports is intense; many even commit large amounts of money and time to it. Getting a major in sport management allows you to follow your passion with the promise of a paycheck too.
You go to work every day motivated and engaged. These traits are crucial in a workplace, as they can help you succeed or advance in your career.
3. Job flexibility
Sports management supports many career paths that can be applied to various interests. If you want to work as a community leader or public recreation manager, sport management can help you.
With a degree in sport management, you can also work as an agent for players or as a public relation officer for organizations in crisis.
4. Opportunity to travel around the world
If you love to travel around the world and see places, then sport management is the right major for you. Although, the level to which you travel depends on your employer and the position you hold.
However, it is very easy to find sports management jobs requiring traveling. For example, scouting requires you to visit schools and community programs to scout top prospects.
Sports managers or coordinators can travel with teams to ensure the smooth running of everything. This could range from logistics to equipment maintenance.
5. You get a chance to give back to the community
Giving back to the community is easier with a degree in sport management. This is because you have the adequate skills to organize various voluntary activities and encourage physical fitness.
This way, you can even spot some young ones in your community with potential and help get them on the right path.
6. You develop important skill sets
As a sports manager, you get to work with different kinds of people from different backgrounds.
When you major in this field, you will develop an important skill set to lead and communicate effectively. These skills include critical thinking, communication, social skills, and interpersonal.
How much is a sports manager's salary?
Whether you work on the field with players as a manager or focus on the business aspect, you earn a lot.
According to the Bureau for Labor Statistics, the following are the estimated annual salaries of some jobs in this field.
Contract Manager – $80,000
Athletic Director – $60,000
Sports Agent – $58,000
Athletic Coach – $43,000
Fitness Manager – $43,000
Event Coordinator – $41,000
Note that these are average earning potential; your professionalism influences your pay in sports management.
For example, top coaches in football, like Diego Simeone and Pep Guardiola, earn more than ten times more.
Are there jobs for sport management graduates?
According to the BLS, the job outlook for sports management graduates with degrees increases every decade. It shows a promising growth rate of 18% every decade.
Some of the top job opportunities include;
Athletic director
Agent or contract negotiator or manager
Sports statistician or data analyst
Contract Administrator
Sport coordinator
Fitness manager.
FAQs
What jobs are paid the highest in sport management?
Some of the highest-paid jobs in this field include coaching, managing, and running or owning a sports team.
Is a major in sport management worth it?
Yes, it is.
With the right mindset and commitment, a major in this field can be one of your best career choices.
Is sports management a hard major?
No, it is not.
Sports management is quite an easy major. However, just like other majors, certain general education courses can be challenging for some individuals.
What is the difference between sport management and sports business?
Sports management focuses on a broader range of sports, including finance, accounting, economics, and marketing.
On the other hand, the sports business focuses on knowledge and skills, which are limited to selling and promoting sports products.
Do sport management majors have to be athletes?
No, they don't.
You can major in sport management without being an athlete. Although being an athlete is an added advantage as it gives you many practical experiences.
Conclusion: Is sport management a good major?
Whether sport management is a good or bad major has no one-size-fits-all answer. The reason is that it all varies depending on individual interests and goals.
However, sport management is a good major if you want to learn how to develop and manage sports teams, connect with athletes, and build relationships with fans.
Just like every other major, sport management comes with its own benefit and challenges. While the benefits may look attractive, you must also be ready to face the challenges.
But overall, it's quite a good major that's competitive and lucrative for those with the right skills and passion for sports. So if you belong to such a category, I would encourage you to try it.
Or perhaps you want to look the other way because you don't have a passion for sports. Check out the degree page to learn more about different degrees and what you can do with them.
Thanks for reading.