Online courses aren't just in the text format anymore, but there Is the incorporation of videos. This means for your video to be effective, it must have high-quality audio.
Regardless of how important and relevant your content is if the audio quality of your video is low or poor, then your course won't be profitable to your learners and it can even discourage them from signing up for your other classes.
But you also have to be aware that it can tasking and challenging when you are recording audio for online course guides.
With that in mind, I created this guide to help you know how to record quality audio for your online course video with little or no stress. Regardless of how challenging you think it might.
Let's get right into it.
1. Preparation
Before you start recording, you should be well prepared. The quality of your audio is dependent on how prepared you are.
Being prepared means that you would have written your script or have a guideline of what you intend to say. Having a script will make you have a well thought and structured video. You'll know what to say and what not to say.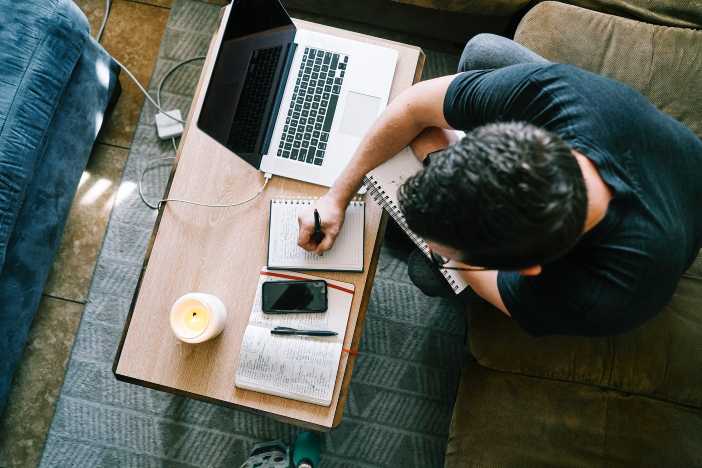 Also, while preparing you should rehearse your script. Rehearsing familiarize you with your script, help you to avoid mistakes, and are able to learn and properly pronounce difficult words. 
2. Avoid Background Noise And Echo
One of the things you should avoid while recording is background noise. A few things to take note of to avoid any noise are;
Unplug or switch off the fan or any machine that can generate noise.
Put your microphone away from your computer or any device that can make a sound.
Close your room window and record in a room away from the road.
Split your recording and record when the noise in your environment is minimal.
Inform those in your house ahead, so they can help reduce noise.
Ensure the echo of your recording environment is minimal. Try not to have so many empty spaces in your room. You could use curtains to cover thick walls.
3. Use a High-Quality Microphone
To record quality audio for your online course videos, one of the best things you can invest in is a high-quality external microphone. 
Apart from your smartphone or laptop microphone, the addition of an external microphone helps you achieve top-notch audio quality for your video.
However, you don't have to buy an expensive microphone, you can always get a good yet affordable microphone that can still record high-quality audio.
One of the best microphones to use for recording your online course video is Razer Seiren. It is easy to use, durable has an amazing sound quality and you can hear how you sound in real time.
4. Use Your Microphone Rightly
After purchasing your microphone, you should learn how to use it. Knowing how to use your microphone is what helps you to record quality audio for your online course videos.
You must familiarize yourself with your microphone and learn how to use it the right way. Learn how to use and handle microphone settings.
You should also pay attention to your microphone positioning and the distance of your mic while recording.
The distance and positioning of your mic vary depending on the mic you're using. So you have to try different angles to figure out which is best for you.
5. Confirm Sound Quality Before Recording
Before you begin to record, it is wise for you to be sure of your audio quality. Testing your audio will help you know if there is background noise or if there is a need to adjust your audio volume.
That way you are aware if anything is wrong, so you can fix it before you start recording. Make use of your headphone while testing your audio.
This means, confirming your sound quality before recording can save you from unnecessary stress and time wastage.
6. Edit Your Audio
You should edit your audio. Regardless of how perfect your recording environment is, it's possible there are some irregularities in your audio that need adjustment.
While editing, you are adding finishing touches to your audio. Which can include cutting out background noise or unnecessary pauses, regulating audio volume, and so on.
One of the best audio editing software to use is Adobe Audition. It is easy to use and offers you several options for you to achieve the best audio quality for your online course video.
However, because you are editing doesn't mean you shouldn't give your best while recording your audio always edit your audio before compressing because your compressed audio won't be suitable for editing.
Summary
When it comes to recording high-quality audio for your online course video, there isn't just one way to do it. But if you follow these basic steps above you are on your way to achieving great results.
Remember, you should prepare before you start recording, and make use of the right equipment and effective audio editing software.
Finally, for your screen recording needs, here are the best free screen recording software to create a quality video recording of your screen.
Thanks for reading.