Instead of utilizing words, sign language uses hand gestures and movements, body language, and facial expressions to communicate. If you want to learn sign language online, this article is for you.
When spoken communication is difficult or inappropriate, sign language is any method of communication based on bodily motions, particularly those of the hands and arms. The practice most likely predates the invention of speech.
Sign language can range from simple grimaces, shrugs, and pointing to a complicated combination of coded manual signals, facial expressions, and possibly words spelled out in a manual alphabet.
When vocal communication is problematic, such as between speakers of mutually incomprehensible languages or when one or more would-be communicators are deaf, sign language can help.
But how can you learn sign language online and master it? Read on to find out.
Mediums to Learn Sign Language Online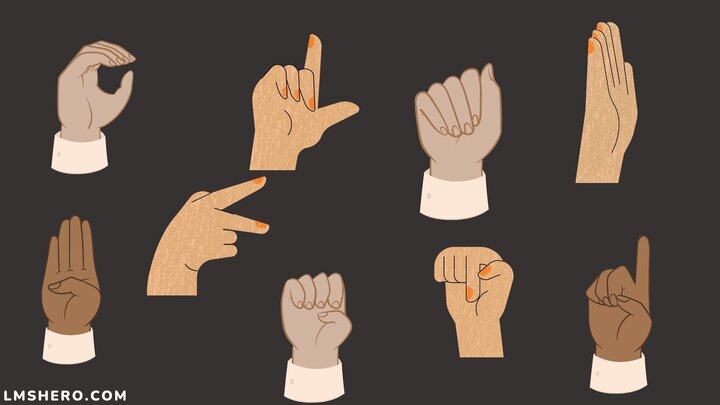 1. YouTube has plenty of videos
YouTube is a great way to learn sign language online – whether you're looking for a fun and easy way to learn, or you want to be able to fluently communicate with others in sign language.
With YouTube videos that are specifically designed to help you learn sign language, there's no need to worry about finding the right resources. Hundreds of professionals give free training on how to sign the alphabet, popular phrases, numerals, and more
In fact, using YouTube can actually make learning sign language faster and more enjoyable than other methods. So why not give it a try?
2. Resources available on the internet
Anyone can learn sign language with the right resources. You don't need any special skills or training – just a willingness to learn and Internet is a great resource for learning sign language.
There are plenty of online resources that offer video instruction, flashcards, practice exercises, and more. Whether you're looking for a comprehensive course or just the basics, you'll find the right tools to help you learn sign language.
You can find sign language video lessons for a variety of different topics, including beginner signing, advanced signing, and even specific language skills. There are also online forums where you can ask questions and receive feedback from other sign language learners.
3. Apps
There's no need to be limited by language barriers anymore. With sign language apps, you can learn ASL anywhere, anytime. And not just in a classroom setting – with mobile apps, you can learn on the go and in any environment.
So whether you're at home, at work, or out shopping, you can stay fluent in your language. And best of all, there are apps for both Android and iPhone. You can install a sign language app on your phones or tablets and keep sign language lessons in your pockets.
On-the-go ASL classes can keep you up to date on minor details and assist you to confirm anything up when you need to. Additionally, apps that teach sign language will allow you to study at any time and from any location.
Best Site For Learning Sign Language
1. Sign Language 101
SignLaguage101 is a video-based platform that teaches sign languages. It is possible to learn everything from the ASL alphabet to everyday words and phrases to sports and game signs – and more.
In ten video sessions, Dr. Byron W Bridges will teach you the ABCs, colors, pronouns, gestures, numbers, body language, common phrases, antonyms, verbs, directions, time, and more.
Each video is approximately 20 minutes long, allowing you to obtain a thorough understanding of signing as you progress from simple to more complex themes.
After finishing the class, you ought to have a solid understanding of the principles of sign language. The site is completely free to use, but if you'd want to help out, donations are accepted.
2. Expert village
Expert Village is a YouTube channel that features a variety of educational videos on various subjects from photography to naturopathic medicine.
The channel offers 15 videos to assist you in learning popular terms. Learn the basics of sign language, along with helpful phrases and other information.
Before enrolling in a complete course, try out Expert Village's free YouTube videos to gain the concept for the foundations of sign language.
Colors, common words, animals, and beverages are just a few of the subjects covered. Each video is simply a couple of minutes long.
3. Start ASL
The Start ASL website also offers free online sign language classes. There are over 40 free courses to choose from, as well as worksheets to keep track of your progress.
The lessons are set up so that you may begin with the basics and work your way up to more complicated signs like discussion practice and storytelling. They make learning the fundamentals of sign language communication at home simple.
If you're ready to pay, they also offer advanced lessons at three levels if you're looking to advance your studies. The monthly fees for the Bronze, Silver, and Gold courses are $9.95, $19.95, and $49.95, respectively.
4. Udemy American Sign Language Level 1 
This might be the class for you if you want to go beyond the basics of ASL and study more sophisticated modules.
This course will teach students the alphabet, numbers 1 through 99, as well as how to sign words for colors, animals, family members, food and drink, verbs, emotions, and more.
Sadly, there are no translations available for this course, making it unusable to deaf students. Non-deaf people who desire to master American Sign Language will benefit from this intermediate-level course.
5. Gallaudet University
You can study sign language from the comfort of your home with the ASL Connect program by Gallaudet University, a private college for the deaf and hard of hearing.
There are over 20 videos available to help you learn everything from colors, alphabets, and numbers to sports, family, weather, basic needs, and destinations.
Basic, interactive sign language sessions are also available. Three of the modules are Personal Information, Making an Encounter, and People, each having its own series of lessons on greetings, introducing yourself, vocabulary, and more.
6. Marlee signs
Marlee Signs is a terrific app for learning American sign language that is completely free. In this app, deaf actress Marlee Matlin teaches you sign language and fingerspelling. It's a video that demonstrates how to sign any word letter by letter.
This sign language learning program gives you the flexibility to learn at your own speed. You learn what you want, when you want, rather than being obliged to finish a course from beginning to end.
The application is free to download and use, but you may purchase more lessons for $1.99 each. Marlee Signs is an iPhone and iPad game. However, the app is not currently available for Android phones.
Why Should You Learn Sign Language?
The deaf community places a high value on sign language. It is their first language as well as a means of communication with others, including the hearing community.
Learning sign language provides a whole new world of job possibilities and communicating directly with millions of others. It's a unique, diverse, and expressive way of communication.
Learning signals have applications in a range of fields, including business, mental health, and hospitality. They can assist autistic children and adults in social interactions.
Government agencies and multinational organizations frequently hire sign language professionals as interpreters.
Fun Facts About Sign Languages
1. There isn't any universal language
There is no universally accepted sign language. Sign languages, like spoken languages, evolved naturally when different groups of people interacted with one another, resulting in a wide range of variants.
There are between 138 and 300 different varieties of sign language in use now all over the world. Surprisingly, most countries that share a commonly spoken language do not always share a common sign language.
For instance, there are three types of English: American Sign Language (ASL), British Sign Language (BSL), and Australian Sign Language (ASL) (Auslan).
2. Slang words exist in ASL, just as they do in spoken languages
Sign languages have their own slang, similar to how spoken languages have slang phrases. ASL equivalents exist for even common phrases like "emoji" and "selfie."
Others argue that these signs aren't "genuine" signals, similar to how some argue that slang terms aren't actual words.
If you're using sign language to have a casual discussion, you might wish to add a few slang signs to your arsenal.
3. ASL is learned and mastered just like every other language
Learning sign language may appear to be easier or more challenging than learning a spoken language for others.
Despite the fact that sign language is learned through hand gestures rather than spoken words, it is learned in the same way as any other language.
Did you know that 72 million individuals globally are deaf, according to the World Federation of the Deaf? And over 80% of them are from developing nations, and they use over 300 different sign languages to communicate.
FAQs: How To Learn Sign Language Online
What are the challenges deaf people encounter while learning sign language online?
Due to regional and national differences, professional translators frequently use incorrect terms; while this may not seem like a huge concern, it has resulted in long-term damages.
Are there any online sign language courses with certificates?
Yes, online learning platforms like Alison offer valuable sign language courses with a certificate.
Conclusion: How To Learn Sign Language Online
Learning sign language online can be a fun and rewarding experience. With the right tools, you can learn sign language effectively and efficiently. Without spending a fortune, there are a number of apps, sites, and online courses that offer quality instruction.
These mediums vary in terms of their level of difficulty, course duration, and the number of hours of video instruction that are provided.
However, regardless of the medium you choose, be sure to research reviews and make sure you find a medium that will meet your specific needs. Once you've found one that's right for you, start learning.
I hope you found this article helpful. Perhaps you're also interested in learning a new language and you don't know where to start, here are the best platforms to learn a new language.
Thanks for reading.