Are you thinking about earning the Coursera certificate? Do you want to learn more about the Coursera certificate? Are you confused about whether or not the Coursera certificate has value? 
If any of these questions apply to you, read on to learn more about the value of the Coursera certificate and how it can benefit your job prospects. 
Coursera is an online learning platform that offers courses on just about any topic, ranging from computer science to poetry and philosophy to social sciences. 
Most universities offer Coursera courses, making people wonder if its certificate has value.
This article will discuss this topic in detail and give you some food for thought to decide whether or not it's worth investing in your Coursera education.
What is Coursera?
Coursera is a massive open online course (MOOC) platform that offers courses from more than 100 universities and colleges. 
Started by two Stanford professors, it has become a powerful force in higher education by offering a low-cost educational alternative to traditional classrooms. 
Instructors are typically professors at the schools offering classes on Coursera, who come into their own as teachers through this medium. 
Students can take these courses for free, but paid alternatives offer verified certificates of completion.
SEE: Learn more about MOOC and its relevance in learning
What is a Coursera certificate?
Coursera is an online education platform that offers courses in various fields. The courses are typically free, but if you want to receive a course completion certificate, you'll need to pay for it. 
A Coursera certificate is an individualized learning credential that indicates you have completed a course on Coursera. 
It can be used to verify that you have completed courses and to assess your skills and knowledge. Users can download the certificate in PDF format or share it online.
A Coursera Certificate includes the:
Course name
Tutor's signature
Partner institution logo 
Coursera recipient's identity verification
A Verification URL for validation of the certificate's authenticity
However, a Coursera certificate does not include your photo or the grade you scored.
SEE: Explore the exciting benefits of digital badges
Does a Coursera certificate have value?
A Coursera Certificate has value. Coursera partners with many great schools, including Yale, Stanford, and Princeton. Google is also a partner. These partners give Coursera a prestigious edge. 
It offers a sense of accomplishment and proves that you took courses from reputable universities. 
There is a certain prestige to it. For example, Coursera certificates are beginning to be accepted as credit hours by some colleges.
Whether you're looking to update your skill set or broaden your knowledge, a Coursera certificate has everything you need. 
Furthermore, the platform constantly adds new courses, so there's always something new to explore. 
SEE: Find out if online certificates matter
Why should you get a Coursera certificate?
There are a lot of reasons to get a Coursera certificate, but here are five that stand out the most:
A Coursera certificate allows you to explore various topics that are important to you without having to leave your home.
A Coursera certificate can help you start or further your career in a field that interests you.
A Coursera certificate can broaden your knowledge and understanding of the world.
A Coursera certificate can help you improve your skills in areas that are important to you.
A Coursera certificate can allow you to meet new people and connect with people who share your interests.
You don't have to be a genius to enroll in Coursera. Besides, you don't even need a college degree. 
You can get started with the world's biggest education platform right now and learn from some of the world's best educators. 
The courses are interactive, so you can learn from scratch or take the courses that interest you.
SEE: Compare online classes and traditional classes
Who should use Coursera?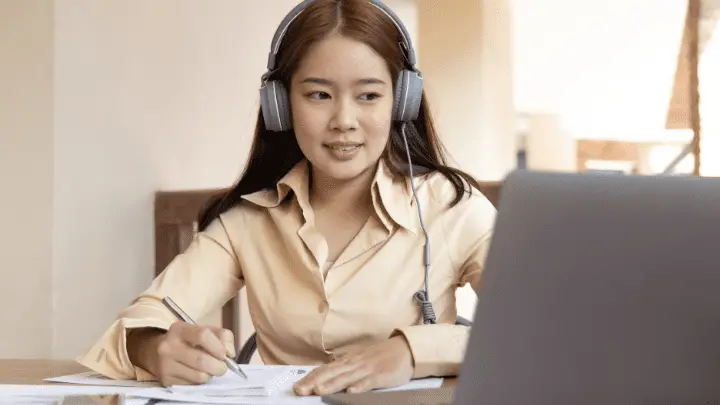 Coursera is an excellent resource for those who want to learn about a specific topic or are interested in taking a course but can't afford to do it at a traditional university. It's also good for anyone who wants to sharpen their skills in their current field. 
For example, if you're an accountant, Coursera offers accounting and tax preparation courses that would help keep you up-to-date on recent changes and developments in your field.
Students can explore a variety of courses in subjects like business, health, humanities, science, and technology.  
You can also choose a special interest area like cybersecurity, music, or design. As mentioned earlier, Coursera has existing partnerships with leading companies like Google, Facebook, and Apple. 
Hence, you can be sure that your experiences on the platform will be valuable and help you reach your goals.
What are some of the most marketable Coursera certificates?
Many marketable certificates are available through Coursera, but the following are a few that may be of interest. 
AWS Fundamentals Specialization
Google Data Analytics Professional Certificate
Meta Social Media Marketing Professional Certificate
Intuit Bookkeeping Professional Certificate
ICPM Certified Supervisor Professional Certificate
Google Digital Marketing & E-commerce Professional Certificate
IBM Data Science Professional Certificate
Google Project Management Professional Certificate 
Meta Marketing Analytics Professional Certificate
DeepLearning.AI TensorFlow Developer Professional Certificate
SEE: Explore the most marketable degrees you can get online
How much is a Coursera certificate?
It costs $49 for Coursera Course Certificates and $9.99 for Guided Project Certificates. There is a fee of $39.99+ per month for Coursera Specializations and Professional Certificates. 
This amount varies depending on how long it takes you to complete the program. For $399 a year, Coursera Plus subscribers can access 90% of the Coursera catalog.
How does the Coursera certificate compare to the traditional certificate and degree?
The Coursera certificate is a digital credential that shows you have completed select online courses. It offers some benefits of certificates earned through colleges and universities, but it's not the same.
The most significant difference is that the Coursera certificate doesn't have to be earned at a college or university — you can earn it online. It also doesn't require any additional coursework after earning your first certificate.
A Coursera certificate is equal to an undergraduate degree in many fields, but it doesn't offer the same breadth of knowledge as an undergraduate degree from a traditional university.
In general, the Coursera Certificate isn't worth anything more than a traditional high school diploma or GED equivalent for most jobs. 
A Coursera certificate, however, has value for jobs such as web development, marketing, and finance where technology skills and proficiency are essential.
SEE: Explore valuable technology skills
FAQs
Can you include your Coursera certificate in your resume?
Yes, especially if you are in the business or tech industry. It's a valuable credential that shows you're capable of learning and passionate about learning. 
Is it advisable to take paid courses on Coursera?
Yes, taking paid courses on Coursera can be a valuable way to gain new knowledge and skills. Many courses offered through Coursera are excellent opportunities to learn new topics or improve your professional qualifications.
Does Coursera provide free certificates?
No, Coursera doesn't give free certificates. Some of its courses are free, but you don't receive a certificate upon completion.
Final Verdict: Does a Coursera certificate has value? 
Many believe a traditional degree is the best way to achieve success. A Coursera certificate, on the other hand, offers many of the same benefits – but with a different approach. 
Instead of attending a brick-and-mortar university, you can learn at your own pace online. This means you can study anywhere, at any time – and there are no limits to your learning.
A Coursera certificate has value. However, note that a Coursera certificate is not a replacement for a traditional degree, which is the only way to be able to say that you have completed an accredited program. 
But it does give you some credibility and a small amount of work experience, which could help when applying for jobs or internships. 
The main benefit is that you can show your accomplishments to potential employers and share them with others. 
For a detailed review of Coursera, read the Coursera review article. You'll learn everything you need to know about the MOOC platform.
Thanks for reading.