Yes, you can collect unemployment benefits as a stay-at-home mom. 
However, your eligibility for unemployment stipends depends on certain factors. What are these factors that make you eligible for unemployment benefits? 
This article explores the circumstances that can allow a stay-at-home mom to collect unemployment benefits and how to be eligible. 
Why can't stay-at-home moms collect unemployment benefits?
If you have always been a stay-at-home mother and have never worked for anybody else, you are not eligible to get unemployment benefits.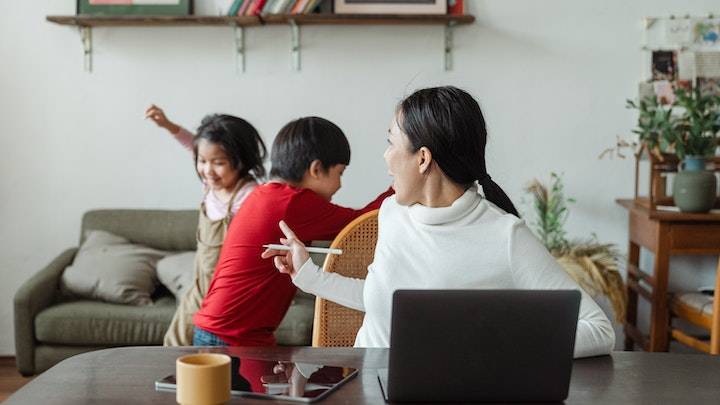 Therefore, you might not be eligible for unemployment if you ran your own business and worked for yourself. That's because the government views you as an independent contractor.
Stay-at-home mothers can only get unemployment benefits if their prior employer contributed to the federal and state unemployment programs. Accordingly, a W-2 or W-4 form must have been submitted on their behalf by their employee.
In place of a W-2, you can submit a W-9 form as an independent contractor. Although they may be eligible for other government programs, independent contractors are not eligible for unemployment insurance.
How do stay-at-home moms survive financially?
Most stay-at-home moms survive financially by either working remote jobs, receiving financial support from their spouse, or receiving social welfare benefits. 
1. Spend less by canceling unnecessary subscriptions
Speaking of saving money, you might want to cut the figurative cord and stop paying for cable television. You might easily save $100 or more by doing this, and you'll also have more time to work and make money. 
Learn to cut back on subscriptions that are not a necessity. If you don't require them for your survival like heat, electricity, water, and gas, then you probably don't need to spend on them.
2. Work from home with a flexible career
Getting a flexible job that allows you to work from the comfort of your home is a great way for stay-at-home moms to financially stay afloat.
Not only can you do these jobs remotely, but they also make it easier to take care of the kids while doing so. 
Listed below are well-known, simple careers that plenty of individuals can launch from home without a degree or specialized training, including:
Virtual Assistant
Event planner
Copywriter
Proofreader 
Transcriptionist
Digital marketer 
Developer/programmer
Social media manager
Grant writer
Travel Consultant
Graphic designer
Blogger
Focus on a longer-term career, advancement, and the education and skills you'll need to get there rather than just trying to pay the bills and get by.
There are numerous ways for mothers to work from home and make a good living; many of these careers pay up to $100,000 annually. 
3. Take advantage of a raise and save for rainy days
The quickest and safest way to increase your income is to request a raise or a promotion. However, ensure you have a strategy in place for that extra cash in advance. 
If you're not dedicated to a rigorous budget, having more money frequently results in greater spending. When you have determined your raise after taxes, transfer that sum immediately to an emergency fund account and don't touch it.
4. Track your spending and cut costs
Analyze your monthly earnings and outgoing costs carefully to create a budget that restricts your spending in cyclical areas like entertainment and food.
Find strategies to save money every month, such as avoiding eating out and restricting your entertainment expenses.
Social welfare benefits that stay-at-home moms can collect
Provided they pay great detail-oriented attention and possess the patience to handle a lot of time-consuming paperwork, stay-at-home mothers can get indirect government funding through a wide range of benefits.
The concealed safety net of Social Security is made up of numerous widespread government aid programs.
Due to the fact that they only have one wage earner, single-income SAHM families frequently fall inside the federal poverty requirements.
These social welfare benefits include the following;
Temporary Assistance for Needy Families
Women, Infants, and Children (WIC)
Housing Assistance
School Breakfast Program
Supplemental Security Income (SSI)
Food Stamps
Special Supplemental Nutrition Program
Food and Nutrition Assistance
Low-Income Home Energy Assistance
National School Lunch Program
FAQs
Does the IRS give stay-at-home moms any benefits? 
Yes, if you are eligible for one of these programs, the IRS may provide you with free money for personal use without requiring you to pay it back.
These programs include; Earned income tax credit, premium tax credit, child tax credit, or the American opportunity tax credit.
What are the four types of welfare?
Supplemental Nutrition Assistance Program (SNAP), Supplemental Security Income (SSI), Temporary Assistance for Needy Families (TANF), and Special Supplemental Nutrition Program for Women, Infants, and Children (WIC).
Do stay-at-home moms count as unemployed?
No. You are only considered to be jobless or unemployed if you are actively searching for work.
Conclusion
Unless you worked prior to the date of your childbirth for an employer who contributed to the federal and state unemployment programs, you most likely won't be eligible for unemployment benefits. 
This also means you won't be entitled as a business owner as the government classifies business owners as independent contractors.
However, you can still benefit from a wide range of social welfare benefits depending on if your family falls within that income range. 
I hope you found this article helpful. You can also learn the difference between unemployment and welfare benefits and how you can collect them as a stay-at-home mom.
Thanks for reading.