Whether you are a newbie looking to make an informed decision on the best screen recording software to choose for your Windows device or a seasoned pro seeking out alternatives to the software you are used to, we've got you covered.
Screen recording software are not all on the same tier. Even though they all perform the same primary task – which is to record your screen – they come with different levels of features and costs. Some of them are great, but many are… not so great.
But don't worry, I've done the hard work already for you. I've researched dozens of the screen recording software available on Windows and settled on six of the best. These PC applications all come with the optimum combination of price, functionality, and ease-of-use.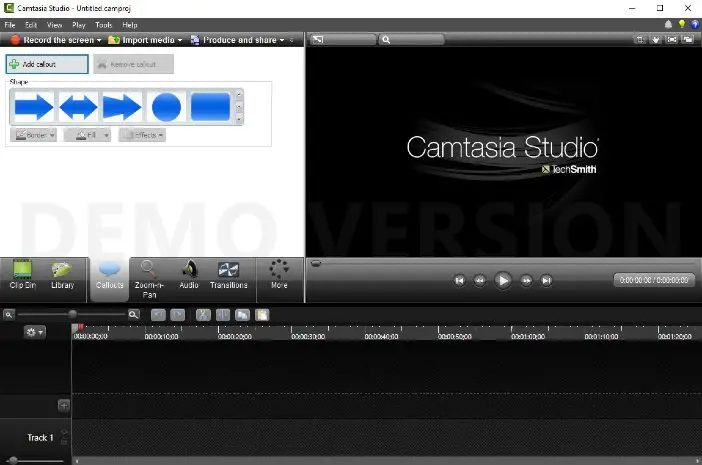 Camtasia is a video editing and screen recording software that is built to accommodate beginners.
In terms of its video editing capabilities, Camtasia is not the most robust alongside its rivals. Where it really excels is when it comes to screen recording. Here, it is arguably the best option in the market.
Camtasia is very feature-packed. It allows you to record your entire screen or just portions of it. It also features webcam recording and tons of premade animated effects. There are callouts, transitions between slides, and a host of video effects.
You can import or record PowerPoint videos in the application. But what I love most about Camtasia is that it actually allows you to create interactive quizzes on your recorded videos. How neat is that?
Camtasia is compatible with Windows, macOS, and iOS.
Pros
Very extensive music and audio library for free
You can create interactive quizzes
Transitions between slides
Screen and Webcam recording and PowerPoint presentations
You can edit video, audio, and cursor tracks separately
Easy-to-use software
Cons
Camtasia is somewhat pricey
Videos recorded while on the free trial are watermarked
Price: $249, with a 30-day free trial.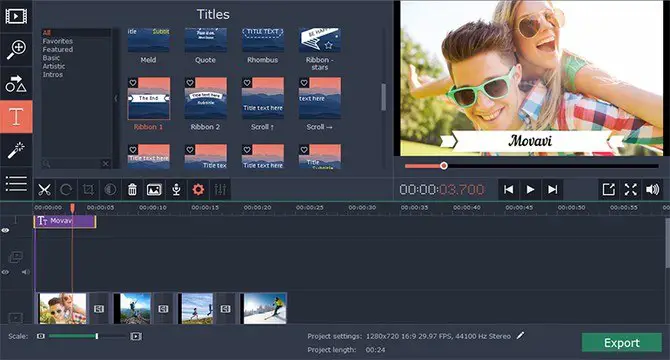 This screen recording software is one of the best tools for recording tutorials, online meetings and events, webinars, and instruction videos on your Windows device. It is a user-friendly tool and is suitable for complete beginners.
Movavi Screen Recorder enables you to capture videos and images and export them in a host of file formats. The recorded videos can be exported in MP4, MKV, MOV, GIF, AVI, MP3, JPG, PNG, or BMP. They can be uploaded directly to YouTube, Google Drive, or a host of other options.
You can take images of your screen and edit them. But Movavi Screen Recorder does not come with a video editing feature, unlike Camtasia. It has a scheduled recording feature, which can come in quite handy.
Movavi Screen Recorder works with both Windows and Mac.
Pros
Screen and webcam recording
HD video recorder
Recorded videos can be exported in a wide range of file formats
It is easy to use
A scheduled recording feature with automatic shutdown
Screenshot editor
System and microphone audio can be recorded in separate tracks
Cons
The trial version is limited. You can only record up to 5 minutes of video.
Video editing is very limited
Price: $39.95, with a 7-day free trial.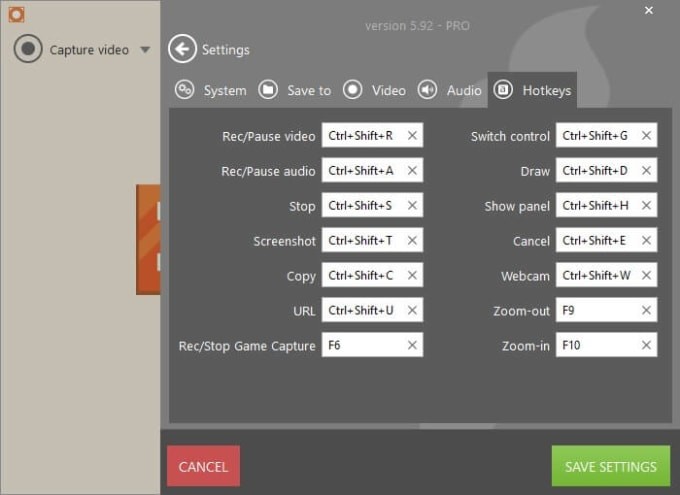 Icecream Screen Recorder is a screenshot and screen recorder software that has been around for quite some time now. It is suitable for all kinds of screen recording applications, such as online tutorial and instruction videos, gameplay recordings, webinars, and many more. It is also easy to use.
Like the other options on this list, you can choose whether to record the entire screen or just a portion of it. There are 5 available recording modes to select from.
Icecream Screen Recorder comes with a webcam overlay on the video recording. You can also add text, outlines, shapes, and arrows to your recordings. You can actually draw on them and add your personal watermarks.
It also comes with a scheduled screen recording feature.
This screen recorder software is available on Windows, Mac, and Android.
Pros
It is a user-friendly software
You can add text, shapes, outlines, and drawings to your recordings
Personal watermarks can be added to recordings
Scheduled recorder feature is available
Cons
The free version is limited. It comes with a watermark, only exports one file format, and you can only record up to 10 minutes of video
Audio may be distorted while the video is edited
Price: Free, $29.95
Open Broadcaster Software, or OBS, is a powerful open-source, cross-platform screen recording and video editing software maintained by the OBS Project.  It is entirely free to use, and there are no limits at all to using the software.
OBS Studio allows you to record your entire screen or just a portion of it. It comes with hot customizable keys that can be used to control the screen recording.
This recording software allows you to create screen recordings, integrating window captures, webcam overlays, capture cards, text, and images. All of these can be switched from source to source very seamlessly.
The OBS Studio software isn't just limited to screen recording. It can also be used for live streaming. With OBS Studio, you can stream live on YouTube Gaming and Twitch. 
It must be noted that OBS studio is not the most user-friendly screen recording software for Windows that is available on the market. And that is why I have not ranked it higher on this list. Still, there are few rivals that can compete with it in terms of functionality. 
OBS Studio is available for Windows, Mac OS, and Linux.
Pros 
It is entirely free of charge
No watermarks are attached to recorded videos
OBS Studio comes with a lot of customizable features and settings
There are no limits to screen recording
It comes with an in-built audio mixer
You can easily connect which streaming service providers
Cons
The user interface can be overwhelming, especially for beginners
It has a steep learning curve
The process of installing plug-ins can be improved upon
It is liable to crash periodically
Price: Free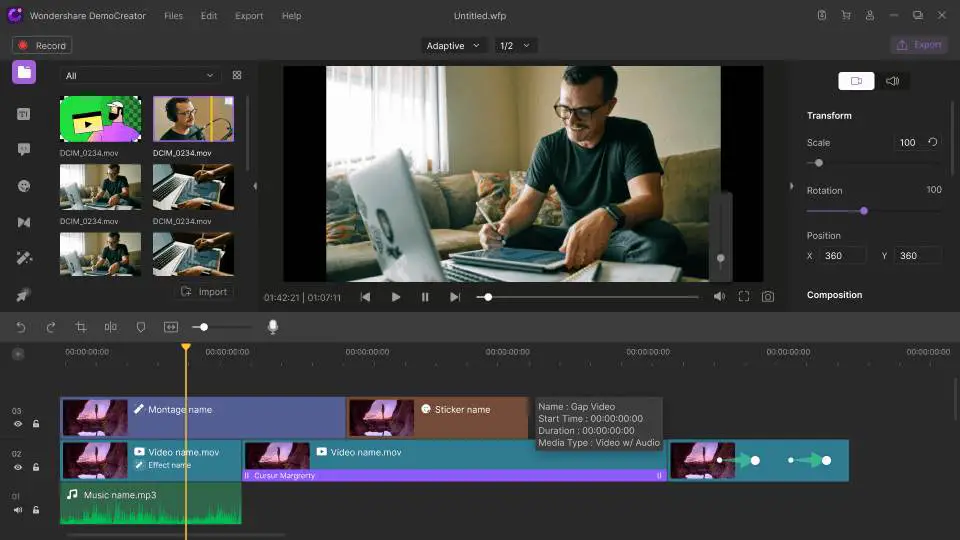 This is a powerful screen recording and editing software. It allows you to record all sorts of videos, including gameplay videos, tutorials, and online courses. It is especially popular in the video game community because it works excellently for capturing face-paced content (up to 120 FPS recordings) even as you record your webcam overlay.
Filmora Scrn comes with basic video editing functionality to help improve the video recorded. The video editing capability is limited, though, and does not compare favorably with the more powerful Filmora Video Editor. Still, it does a good job at the basics.
You get to choose from 100 annotations and cursor effects. The video and audio speeds can be customized and you can add markers to your video. Filmora Scrn also allows you to set hotkeys to make the screen recording process even easier.
This software is compatible with Windows and Mac.
Pros
It is intuitive and user friendly
Screen recording with a webcam overlay
It comes with a basic video editor
Up to 120 FPS recording which is great for gameplay recording
It supports HD screen recording
Cons
The performance can take a hit on some games
The video editor tool is rudimentary
Price: Free, $29.99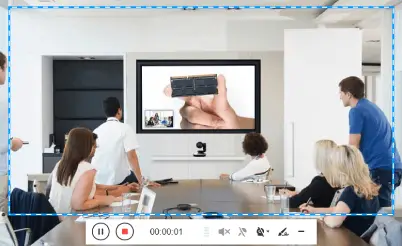 AceThinker is a screen recorder software that is very user-friendly and intuitive, and therefore suitable for beginners. 
With AceThinker Screen Grabber, you can record your entire screen or just portions of it. You can also make edits to your screen recordings and save them in all of the popular video formats, including AVI, MP4, WMV, FLV, and MOV.
AceThinker is suitable for all kinds of screen recordings. You can record your screen with this software for instructional videos, gameplay, web videos, webinars, meetings and conferences, podcasts, and more. It allows you to record audio and video via your webcam. 
The videos that you record can be uploaded directly to YouTube, Google Drive, or Dropbox. They can also be shared on several other platforms. 
AceThinker Screen Grabber allows you to create scheduled recordings, but this feature is only available on the PRO version. 
Pros
You can annotate your recordings in real-time
Easy integration with the more advanced AceThinker video editor
Recorded videos can be saved to a large variety of file formats
It has a recording scheduler feature
It is user-friendly
Cons
The free version offers limited access.
Price: Free, $39.95 for a lifetime plan.
What are Screen Recording Software?
Let's say you are an expert in a field like Microsoft Excel or video editing and you decide to spread your knowledge to students online for a fee. Your students are not physically present to see what you would show them on your PC screen.
Enter screen recording applications. These applications record what happens on your computer, smartphone, or tablet screen, allowing you to share informational or entertainment content. They can record your entire device screen or just the portions of it that you choose to show.
Of course, they are not restricted to online tutorials. They come in handy for tasks like product demonstrations, meetings, and webinars.
You can use screen recording software to record a minute of your character blazing through a bunch of flesh-eating zombies on Resident Evil 2.
Whatever application you have planned out, you will find screen capture software to handle it. They come in different forms – from one-click, single-purpose applications to complex software with a large variety of features and tools.
Recording the content on a device screen used to be a complicated process until a few years ago. Fortunately, that is no longer the case these days. Screen recording software has significantly improved in recent years, and they are much easier to use, even by newbies.
What to Look Out for in a Screen Recording Software
Screen recording software are different from each other, sometimes very markedly. While some are basic, others come with advanced features.
Still, there are features that are common to the screen recording software that you should be using. Each of my picks meets certain basic metrics. They include the ability to:
Record your whole PC screen or portions of it.
Edit and annotate videos after they are recorded.
Save the recorded videos in a variety of file formats.
Capture from external sources.
In addition, the screen recording software that I recommend are user-friendly. They are great for beginners or come with a gentle learning curve. I have a soft spot for applications that are pocket-friendly too.
FAQs
Q: What is screen recording software?
These are tools that help you to record the content on your device screen. You can use screen recording software to record the entirety of your screen or just portions of it.
Q: What are the applications of screen recording software?
You can use screen recording software to record your screen for a variety of uses. These include creating tutorial and instructional videos, gameplay recordings for gamers, and product demonstrations.
You can also use them for meetings and conferences, webinars, and podcasts. The possibilities are endless.
Q: What is the best screen recording software for Windows?
I have tested several of the screen recording software that is available for the Windows operating system. From my research, I would recommend Camtasia as the best screen recording software for Windows.
Summary
Screen recording applications are on another level compared to what they used to be years ago. Today, they are significantly improved, and many come with lots of features. They are also much easier to use than they used to be.
If you are looking for screen recording software for your Windows device, you may be in a bit of a tricky situation with so many of them out there.
Luckily, I have done the heavy lifting for you. Whether you are a newbie or a veteran, the screen recording software that I have listed are some of the best that you will find for your Windows.
Hopefully, you can find one of them suitable for your screen recording needs.
Thanks for reading